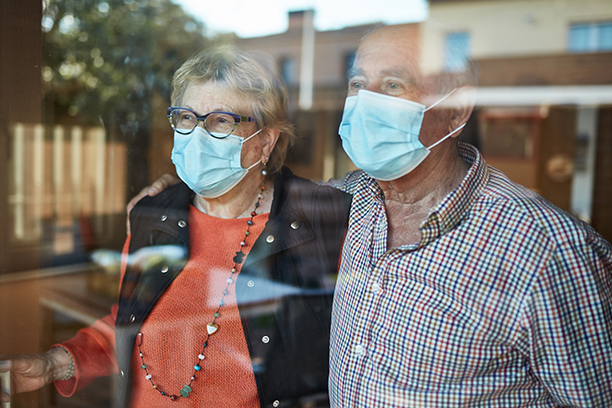 Elderly Care for Seniors with Parkinson's in Frankenmuth, MI and Surrounding Communities
Seniors in Frankenmuth, Saginaw, Bay City and surrounding areas in MI can get the help they need to manage Parkinson's symptoms in their own home with elderly care services from Visiting Angels
At Visiting Angels Frankenmuth, we provide expert in-home elderly care services designed to help senior loved ones continue living independently at home, regardless of the chronic, debilitating conditions they might be afflicted with. If your loved one is diagnosed with Parkinson's, we can help, too. We can develop a personalized care plan and provide your mom or dad with a skilled caregiver who can cater to their specific needs in various stages of their condition, allowing them to remain living safely at home as they age.
What Are Common Symptoms of Parkinson's Disease?
Parkinson's disease is a degenerative disorder of the nervous system causing stiffness that affects movement. While the symptoms of Parkinson's are barely noticeable at first, older adults in the later stages of the disease experience difficulties with performing even simple, manual tasks. As the condition progresses over time, the majority of affected individuals require high levels of care and assistance, provided by either family members or home care professionals.
"The Visiting Angels were a lifesaver stepping in to help care for my father who had severe scoliosis and my mother who has Parkinson's. They cooked meals, cleaned, provided companionship, shopped, did laundry and even helped care for their little dog. Always kind, professional, on time and willing to stay a few extra minutes if needed. The office staff provided flexibility in scheduling, and were always available by phone. I would highly recommend for anyone looking to stay in their home and needing some assistance. They truly are Visiting Angels."
- Cathy K.
Once Parkinson's disease is diagnosed, the symptoms may be very subtle in the beginning. However, as the condition gradually progresses, you can expect that your loved one's mobility and mental functioning will be severely affected.
Some of the most common symptoms include:
Frequent, recurring tremors

Slow but gradual decline in mobility

Balance issues

Depression and/or anxiety accompanied by a sleeping disorder

Lack of comprehension and/or delusions
Additionally, seniors with advanced Parkinson's can develop dementia, which can interfere with reasoning and judgment and cause symptoms such as irritability, confusing and frightening hallucinations and getting lost during conversations.
How Can Visiting Angels Frankenmuth Help My Loved One?
The condition will gradually cause a number of complications which will make routine tasks performed hundreds of times extremely difficult for your loved one. Because Parkinson's affects mobility and balance, your mom or dad will be at a high risk of falling and injuring themselves as well.
With the help of a trained caregiver from Visiting Angels Frankenmuth, your loved one can remain living safely and independently at home in their preferred routine, despite their condition. We have extensive experience with providing in-home elderly care services for seniors with Parkinson's, Alzheimer's and other forms of memory and cognitive-related illnesses, so you can rest assured your loved one will receive the care they need.
Our elderly care services provide assistance with various activities of daily living, including:
Living with Parkinson's means living with constantly evolving care needs. At Visiting Angels Frankenmuth, our services are flexible and you can review, adjust and upgrade your loved one's plan in accordance with their shifting or arising needs.
Contact our Frankenmuth, MI office today and learn more about our elderly care services and how we help seniors afflicted with Parkinson's disease. We are here for you!
Serving the Great Lakes Bay Region in Michigan, including Frankenmuth, Saginaw, Bay City and surrounding areas
Visiting Angels
FRANKENMUTH, MICHIGAN
527 N Franklin St #C
Frankenmuth, MI 48734
Phone: 989-349-0579
Fax: 989-652-6365