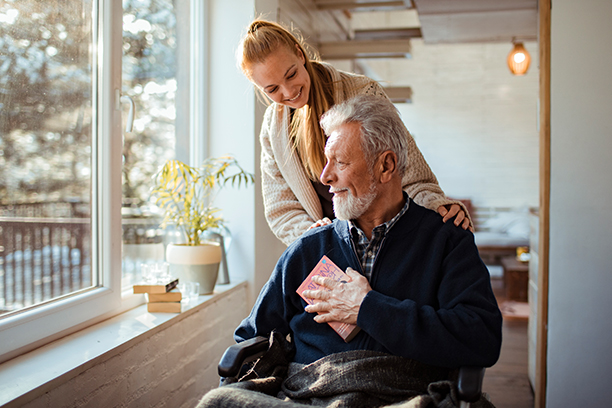 Our Personal Care Assistants Help Seniors in Frankenmuth, MI Stay Safe with Fall Prevention
Falls are the cause of many severe injuries that lead to loss of independence for seniors in Frankenmuth, Saginaw, Bay City and surrounding areas in MI. A personal care assistant from Visiting Angels can help your loved one avoid fall-related injuries.
Not only can falls cause physical injuries, but they can also affect your senior loved one on an emotional level. Experiencing a fall can damage a person's quality of life in several ways. Seniors who are afraid of falling again often avoid leaving their home and miss important family functions. This kind of isolation can lead to depression, loneliness, sadness and feelings of anxiety. Luckily, the home care experts at Visiting Angels Frankenmuth are here to help by providing fall prevention services.
The Life-Changing Impact of Falls for Seniors
Did you know that every year one in three seniors experiences a fall and one in five sustain a serious injury? Falls can cause a broken hip, fracture, concussion and other injuries which can affect senior's quality of life and lead to loss of independence. Older adults who have fallen once before, are more likely to fall again in the future. Unfortunately, more than 800,000 people end up in hospitals every year due to fall, and sometimes recovery can take up to a year. However, our in-home caregivers can make sure that your parent lives safely in their own home.
How Fall Prevention from Visiting Angels Frankenmuth Can Protect Your Loved One
Falls are caused by risk factors which can be linked to one's physical condition, a medical problem or their surroundings at home. Seniors who suffer from arthritis, poor eyesight or take multiple medications are more prone to falling. On the other hand, falls can also be caused by dehydration and lack of grab bars in the bathtub.
At Visiting Angels Frankenmuth, our personal care assistants can help your parent identify those risk factors so that falls can be prevented. We understand that falls present a serious threat to seniors' well-being, which is why we have made a commitment to invest in educating older adults, their families and professional caregivers about ways to reduce falls. That way we can help our clients maintain the quality of life they deserve.
Here are some of the ways our personal care assistants can help your loved one stay safe:
If you want to learn more about how our personal care assistants can help your loved one avoid risk factors associated with falling, feel free to contact our Frankenmuth, MI office today.
Serving the Great Lakes Bay Region in Michigan, including Frankenmuth, Saginaw, Bay City and surrounding areas
Visiting Angels
FRANKENMUTH, MICHIGAN
527 N Franklin St #C
Frankenmuth, MI 48734
Phone: 989-349-0579
Fax: 989-652-6365