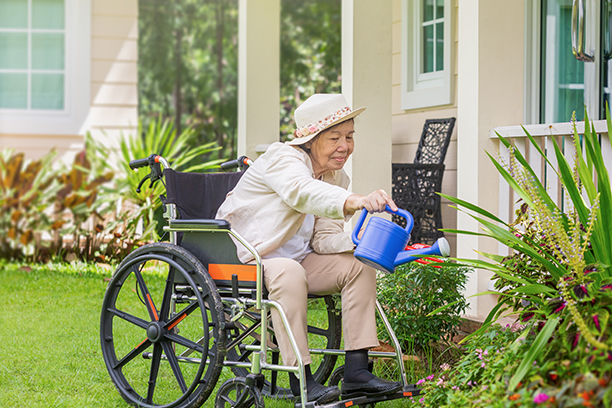 Seniors in Residential Living Have Access to the Best Home Care in Frankenmuth, MI and Surrounding Areas
Visiting Angels Frankenmuth is the best home care agency in the Great Lakes Bay region of Michigan. Besides making sure aging adults continue to live safely and independently at home, we also provide our services in assisted living facilities and senior living communities when families require additional care for their loved ones.
Visiting Angels Provides the Best Home Care Services to Elderly Adults Living in Assisted Living Facilities and Nursing Homes in Frankenmuth, Bay City, Saginaw, MI, and Surrounding Areas
Whether Mom or Dad needs professional care because they still live at home or they wish to supplement and elevate care provided by a facility of your choice, working with Visiting Angels Frankenmuth will allow your loved one to maintain a high quality of life when they need it the most.
The Benefits of Additional Senior Care for Aging Adults in Assisted Living Facilities and Nursing Homes in Frankenmuth and Surrounding Areas
When families opt to place their aging loved one under residential care, it is often with a presumption that the level of care provided in these communities is adequate for their aging family members. However, once there, some seniors discover that elderly care provided in such facilities is not as consistent as they expected it to be or that the personnel is not equipped to handle certain specialized needs. When this is the case, we are here to help.
At Visiting Angels Frankenmuth, we provide older adults who reside in local senior living communities with ample support and the best home care services in order to ensure they are safe and healthy.
In a facility, your loved one will typically receive support from whoever is on the schedule that day. With Visiting Angels Frankenmuth, they will receive support from a dedicated elderly care professional chosen because of their experience, availability, personal traits, and other factors. Now you can see how this makes all the difference regarding the quality of care.
Supplementing Residential Senior Care
Our goal is to provide seniors in assisted living facilities with comprehensive care of the highest quality.
Our caregivers can provide your loved one with a variety of support, such as:
Loving companionship
Overnight monitoring
Additional post-hospital care
And much more
As one of the best home care agencies in the Great Lakes Bay region, we've worked with many local assisted living communities, including:
Additionally, Visiting Angels Frankenmuth also provides overnight monitoring and assistance to seniors living in nursing homes. Our goal is to provide your loved one with a caring and comforting presence at all times.
We've worked with many nursing homes and hospitals in the area for years, including:
With Visiting Angels Frankenmuth, you will have peace of mind knowing your loved one is receiving the best home care, regardless of their medical condition or care needs.
Call our Frankenmuth, MI office to learn more about our senior care services and schedule your free in-home consultation today. We look forward to working with you!


Serving the Great Lakes Bay Region in Michigan, including Frankenmuth, Saginaw, Bay City and surrounding areas
Visiting Angels
FRANKENMUTH, MI
527 N Franklin St #C
Frankenmuth, MI 48734
Phone: 989-652-6435
Fax: 989-652-6365