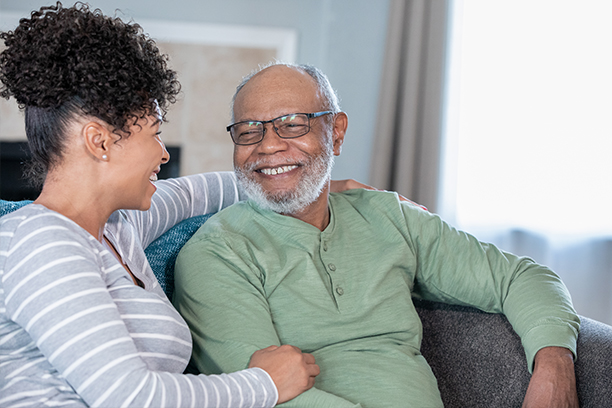 Top Reasons to Choose At Home Senior Care in Greater Joplin, MO
Visiting Angels' At Home Senior Care Helps Seniors Maintain Independence in Joplin, Carthage, Neosho, and Surrounding Areas
When the time comes to choose which route of care you are going to take for your loved one, the choices can be overwhelming. Making the right decision is so important and there are many options for at home senior care that are available.
The choice can be made harder if you are in a hospital setting where social workers and marketing representatives from various homes are pressuring you to make a decision. How do you decide between skilled nursing, assisted living, and at home senior care? Having the right information is of the upmost importance when you are weighing your options.
Five Reason to Choose One-on-One Home Care
Here are five reasons why in-home care may be the best choice for your family:
Staying in Your Own Home – When you are not feeling well or recovering, usually a person wants to be where they are comfortable. Often times this is in their own home. Choosing essential home care services allows your loved one to get the care they need in the place they feel the most secure in. Being able to continue with their normal routine, although maybe modified, helps the healing process and keeps spirits high.
Maintain Control – By having at home senior care right in your loved one's home, it gives them a sense of control that they would lose in a nursing home or other long term care facility. They can still make the day-to-day choices they are used to making, just with a little extra help..
One-on-One Care – This is a big advantage to at home senior care. Unlike care received in a skilled nursing facility or other nursing home, home care gives you complete one-on-one attention. There is no worry that your loved one's medicines will be mixed up or that they will have to wait for long periods of time for care. Also, they are not at the mercy of whatever nurse or aide comes through the door. It will be a chosen caregiver that they know, build a relationship with and feel comfortable with. Often, caregivers become more like family.
Sense of Freedom – One-on-one care in the home still allows your loved one to maintain a sense of the freedom they have always had. Instead of someone waiting on them hand and foot, they are encouraged to safely do as much as they can. Of course, if their needs are extensive and they are not able to do much, the caregiver will gladly handle everything.
More Affordable Financial Option – While insurance may not cover in home care, the real value comes because you are only paying for the services you need. If your loved one is not comfortable being home alone overnight, then you can have a caregiver there for just those hours as a companion. You aren't locked into 24/7 care if it isn't necessary. If around-the-clock care is needed, then caregivers will be scheduled to meet those needs as well. Whatever works best for each family is what will be provided.
Learn More About Our Essential Care Services
At home senior care is a great alternative to traditional nursing home care. Giving your loved one the ability to age in their own home can help them mentally and emotionally, which can greatly improve their quality of life. We offer our services to families living in Joplin, Carthage, Neosho, Webb City, and the surrounding area. Contact our agency today at 417-781-1000 to schedule your free, in-home assessment.
Serving Joplin, Carthage, Neosho, Lamar, Monett, Mt. Vernon, MO and the Surrounding Areas
Visiting Angels
JOPLIN, MO
1736 S Main St,
Joplin, MO 64804
Phone: 417-781-1000