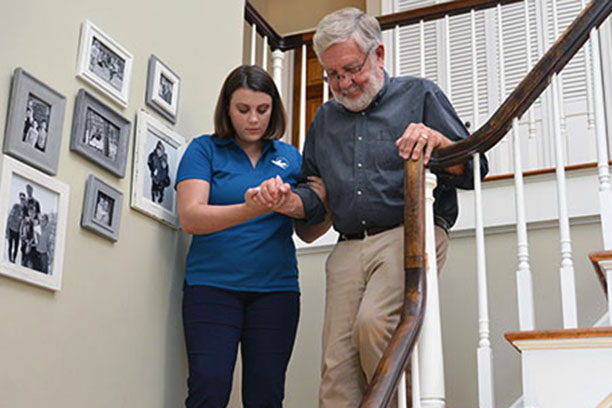 Elderly Home Care That Helps Seniors in and Around Joplin, MO Avoid Unnecessary Falls
Visiting Angels' Elderly Home Care Ensures Safety, Comfort, and Health for Seniors in Joplin, Carthage, Neosho, Lamar, Monett, and Surrounding Areas
As we age, we tend to worry about larger problems: chronic health conditions, retirement savings, and proximity to family or grand-kids. But small things like falls can have a huge impact. For many seniors, a fall can have long-lasting health implications like costly hospital stays or being bound to a wheelchair. Preventing falls can mean just taking a few small steps, but those steps are incredibly important to preserving the health of your aging loved one.
Common Fall Risks
The National Council on Aging estimates that falls result in more than 2.8 million injuries every year, including 27,000 deaths. Elderly home care providers know that falls are both dangerous and impactful to seniors. When you work with Visiting Angels of Joplin, your caregiver will help you look out for factors that might be trip or fall hazards.
Trip and fall hazards in the home might include loose edges of rugs or carpets, rugs that slide on hardwood or tile surfaces, tightly clustered furniture, or clutter in walkways. Elderly home care providers know how to look for these factors and any others that might make a home unsafe. An in home health aide might recommend non-slip pads on floors, grab bars in bathrooms or other tools that can make mobility easier.
There are other health conditions that can increase the risk of a fall, too. Seniors should pay close attention to their eye health in case any vision assistance is needed as they age. Mobility devices can help seniors avoid trips and falls and should be used continually when recommended by a doctor. Maintaining the same medication regimen every day can also reduce side effects that might cause changes in vision, blood pressure, fatigue, and other health conditions that contribute to falls.
How Visiting Angels of Joplin Can Help
Elderly home care providers will work with your loved one to understand their individual health conditions, mobility issues, and lifestyle preferences that might impact trip and fall hazards. Falls can result in damage to bones, muscles, joints, and can have a long-lasting medical and physical impact. Extended recovery periods can also increase loneliness and isolation when seniors who live alone are already at risk for isolation and the depression it can cause.
Learn More Today
If you are concerned about a loved one who lives alone, elderly home care from Visiting Angels of Joplin can help. Call Visiting Angels of Joplin at 417-781-1000 to learn more about how we can help improve the quality of life for your loved one every day.
Download Your Free Safe & Steady Fall Prevention Resource Guide today.

Serving Joplin, Carthage, Neosho, Lamar, Monett, Mt. Vernon, MO and the Surrounding Areas
Visiting Angels
JOPLIN, MO
1736 S Main St,
Joplin, MO 64804
Phone: 417-781-1000