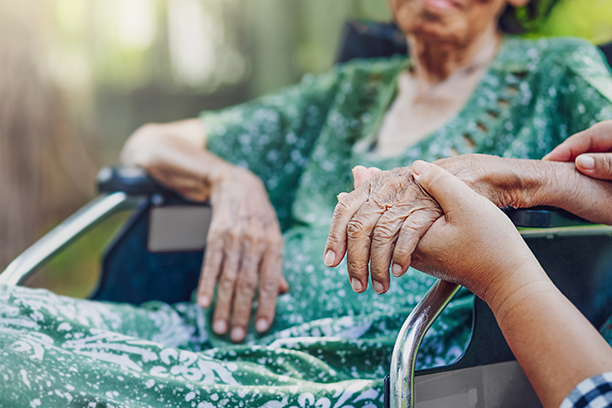 Our Home Care Agency Is Dedicated to Answering Greater Joplin, MO's Questions About Alzheimer's
With Home Care Agencies, an Alzheimer's Diagnosis Does Not Mean Your Loved One Must Leave Their Home in Joplin, Carthage, Neosho, or the Surrounding Area
For many families, an aging loved one being diagnosed with Alzheimer's feels like it means your loved one's whole world will have to change. Alzheimer's often means that daily habits, socializing, and even personality traits may change, but that does not mean that your loved one cannot stay safe, healthy, and comfortable in their own home. As more and more seniors decide to age in place, Visiting Angels of Joplin offers in-home elder care for all seniors, including those who have been diagnosed with Alzheimer's or dementia. This FAQ can provide answers to the basic questions about how senior home care agencies can help your aging loved one with dementia.
What is Alzheimer's?
Alzheimer's is a type of dementia that causes problems in memory, recognition, behavior, and other mental tasks. Symptoms usually develop slowly and increase in severity over time. Ultimately, Alzheimer's can impact the ability of an individual to accomplish daily tasks or care for themselves. Elder care providers are uniquely able to help with seniors' every day needs, including the daily needs of those with Alzheimer's or dementia.
How Common is Alzheimer's?
Awareness of Alzheimer's has increased greatly over the past few decades, so our understanding of this disease is also improving. Alzheimer's is the most common form of dementia, and accounts for 50-80% of all dementia cases.
How is Alzheimer's Different than Being Forgetful as We Age?
Alzheimer's is not a normal part of aging. While mental, emotional, and social abilities and health will change for all of us as we enter our golden years, Alzheimer's results in loss of memory and cognitive abilities and usually behavioral changes as well.
How Does Alzheimer's Impact Daily Life?
The most commonly noticed symptom is the inability to remember past events, people, or processes. In the early stages, memory loss might be mild or merely inconvenient. In the late stages, Alzheimer's, individuals may lose the ability to communicate or respond to their environment. Home care agencies are trained and experienced in dementia care and understand how to work with individuals at any stage in the disease. Caregivers can coordinate with your loved one's medical providers to make sure they get the best possible care every day.
Learn More
At Visiting Angels of Joplin, our most important goal is to help your loved one enjoy their best quality of life every day. We are ready to help with physical, mental, or social challenges your loved one faces. Call our home care agency today at 417-781-1000 to learn more about our home health services in Joplin, Carthage, Neosho, Lamar, Monett, and the surrounding area.
Serving Joplin, Carthage, Neosho, Lamar, Monett, Mt. Vernon, MO and the Surrounding Areas
Visiting Angels
JOPLIN, MO
1736 S Main St,
Joplin, MO 64804
Phone: 417-781-1000