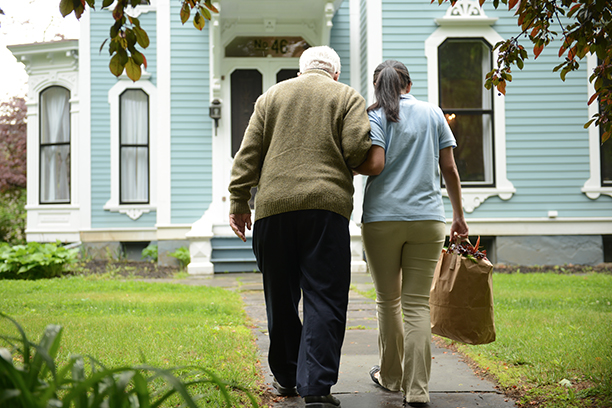 Home Care in Lamar, MO
Moving into your golden years comes with many wonderful things like grandchildren, time for hobbies, and even travel. But it also comes with less pleasant issues, such as living in continuous pain and discomfort that is often the result of an injury or disease. To help ease the suffering Visiting Angels of Joplin offers home care in Lamar, MO.
Visiting Angels of Joplin Provides Quality Home Care to Seniors Living in Lamar, MO, and Surrounding Areas
If you have a loved one suffering like this, consider contacting Visiting Angels of Joplin to talk about senior care options for your loved one in Lamar, MO, and the surrounding areas.
Here are two things you should know about our home care for the elderly:
Comfort Comes First
While you are searching for senior care services for your loved one, you should keep their overall comfort in mind. At Visiting Angels of Joplin, we work with you and your loved ones to ensure they are comfortable and can enjoy their golden years in Lamar, MO.
Although our main goal is to do what is needed to keep your loved one comfortable, however, in some cases, it is possible your loved one will recover. Your loved one's doctor is taking care of reducing your loved one's pain, but even though they might be living in constant pain, there is always a chance for recovery.
Visiting Angels of Joplin is Here to Help
While the main goal of home care for the elderly is to help alleviate the pain your loved one is suffering as a result of their condition, many still suffer from feelings of loneliness and anxiety. Companionship is a vital ingredient of any senior care service and can be nothing more than having someone to talk to or to go for a walk in one of the many parks in Lamar. It could also be someone who can provide transportation and conversation to their next appointment at the Cox Barton County Hospital, maybe even a visit to Cap's Cabin Restaurant for lunch if your loved one is able.
Even the best of medical care can only go so far, but it will not replace the loving care and companionship our caregivers provide. At Visiting Angels of Joplin, our caregivers provide companion care intended to help our senior clients continue to live comfortably and independently in their own homes.
Contact Us Today
If you would like to learn more about the home care services offered by Visiting Angels of Joplin. Contact us to schedule your free consultation at a convenient location where both you and your loved one can talk to one of our senior care advisers to discuss your loved one's needs.
Our dedicated team of caregivers is ready to assist. Call us today!


Serving Joplin, Carthage, Neosho, Lamar, Monett, Mt. Vernon, MO and the Surrounding Areas
Visiting Angels
JOPLIN, MO
1736 S Main St,
Joplin, MO 64804
Phone: 417-781-1000