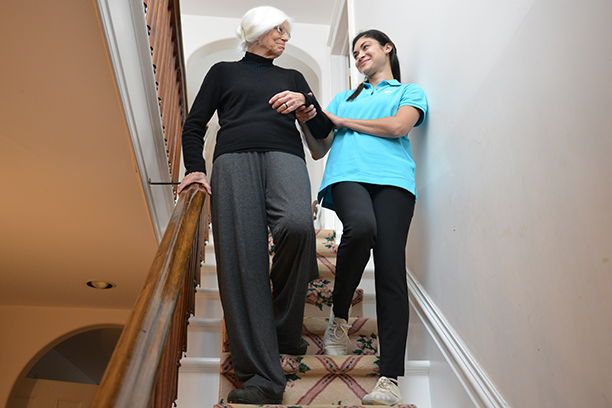 Alzheimer's Home Care Services in Greater Joplin, MO
Visiting Angels' Home Care Services Can Help Your Loved One with Alzheimer's in Joplin, Carthage, Neosho, Lamar, Monett, and Surrounding Areas
Alzheimer's impacts millions of seniors across the country, which means that millions of families just like yours are worried about the impact that an Alzheimer's diagnosis will have on your loved one's future. Cognitive diseases like Alzheimer's or dementia require specialized care, and the families and individuals who are dealing with these diseases need support, as well. Visiting Angels of Joplin can answer all your questions about Alzheimer's care and provide the home care services your loved one needs to remain safe, happy, and healthy.
Signs a Senior May Have Alzheimer's Disease
If you are concerned that your loved one may have Alzheimer's, consider:
Do they forget names, identities, or recent life events?

Do they frequently misplace items around the house or lose track of tasks and projects?

Are they having trouble reading and remembering what they have read?

Do they have new or worsening confusion with keeping track of the date, season, or year?

Have you noticed personality changes, such as anxiety, fearfulness, or lack of interest in hobbies?

Is memory loss disruptive to their daily life?
If you are noticing these warning signals, alert your loved one's doctor and discuss your concerns. Receiving a diagnosis of Alzheimer's and talking with your medical provider can help you understand your loved one's symptoms and what they might face in the future.
Best Care Options for Alzheimer's Disease
If your senior has already been diagnosed with Alzheimer's or dementia, your next step is figuring out the right kind of care for their needs. There are live-in facilities that offer around-the-clock care dedicated to those with Alzheimer's or dementia. Home care services can also provide specialized care, through the companionship of a caregiver trained in best practices of Alzheimer's and dementia care. An Alzheimer's diagnosis alone does not mean your loved one has to leave home.
Our Alzheimer's care is all about slowing the worsening of symptoms and providing relief and comfort to those experiencing Alzheimer's or dementia. There are multiple approaches to working with clients who have Alzheimer's and, with home care services, your loved one will have one-on-one attention from a caregiver who will figure out the best ways to collaborate with them.
Worried about a loved one who lives alone and could have Alzheimer's? A consultation with Visiting Angels of Joplin can help you figure out your next steps. Call us today at 417-781-1000 to learn more about how we provide services for clients with all types of needs in Joplin, Carthage, Neosho, Monett, Lamar, and the surrounding area.
Serving Joplin, Carthage, Neosho, Lamar, Monett, Mt. Vernon, MO and the Surrounding Areas
Visiting Angels
JOPLIN, MO
1736 S Main St,
Joplin, MO 64804
Phone: 417-781-1000