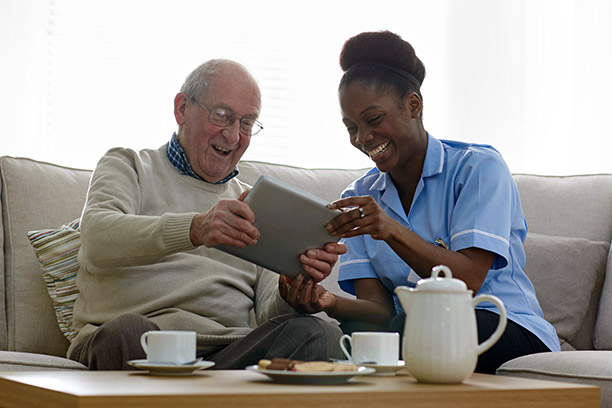 Quality Alzheimer's Care in Joplin, MO and Nearby Cities
A diagnosis of early-stage, mid-stage, and late-stage Alzheimer's can be an emotionally jarring and destabilizing experience. For many families, diagnosis is followed by the unsettling question of, "What next?" Most families try to ensure that their loved ones can continue to live in the familiar, comforting setting of home for as long as possible.
Visiting Angels Provides In-Home Alzheimer's Care to Seniors in Joplin, Carthage, Neosho, and Surrounding Areas
At Visiting Angels of Joplin, our Alzheimer's care in Joplin and the surrounding areas offer the support that you and your family need to navigate the diagnosis, offering long-term care for your loved one and respite for you and your family.
The Benefits of In-Home Alzheimer's Services
One of the biggest fears families affected by Alzheimer's face is the need for a nursing home. Alzheimer's sufferers and their family members often do all that they can to avoid nursing care. For Alzheimer's and dementia sufferers, familiar routines and surroundings are key to reducing stress and anxiety. The disruption and alienation that come with a nursing facility are tough on anyone, and daily living can be even worse for those with memory disorders.
The benefits of Alzheimer's care and dementia care at home include:
Familiar surroundings
Routines can be established easily
The same caregiver will be coming to assist your loved one
Symptoms can be monitored more easily
They can receive certified palliative care at home
They are where they are most comfortable
With Alzheimer's services from Visiting Angels of Joplin, you can delay the need for a nursing home. Our caregivers ensure that people with dementia receive comprehensive Alzheimer's care and support, making it possible for them to keep enjoying the comforts of home. Alzheimer's services, and dementia care not only make it easier for memory disorder sufferers to live at home, but they also help ensure your loved one's safety by helping your loved one navigate their surroundings, remember important appointments, and take their medications at the proper times in the proper doses.
Our Alzheimer's Care Providers
Every client who chooses an Alzheimer's care plan from Visiting Angels of Joplin has the opportunity to meet with potential senior caregivers prior to their services. Our team of Angels strives to ensure you and your loved one are comfortable with your caregiver(s), and we allow our clients to choose the care providers they feel most comfortable with.
As part of our commitment to compassionate, supportive services, Visiting Angels of Joplin and the rest of our network have partnered with the Alzheimer's Foundation of America. Our caregivers are offered specialized training according to guidelines set out by the AFA, and our services follow the current best practices for in-home care.
Alzheimer's services from Visiting Angels of Joplin are available throughout Joplin, Neosho, Carthage, and the surrounding area. Our caregivers can help improve your family member's quality of life.
Learn more about Alzheimer's care services and dementia care from Visiting Angels of Joplin by calling our office at 417-781-1000 today!


Serving Joplin, Carthage, Neosho, Lamar, Monett, Mt. Vernon, MO and the Surrounding Areas
Visiting Angels
JOPLIN, MO
1736 S Main St,
Joplin, MO 64804
Phone: 417-781-1000