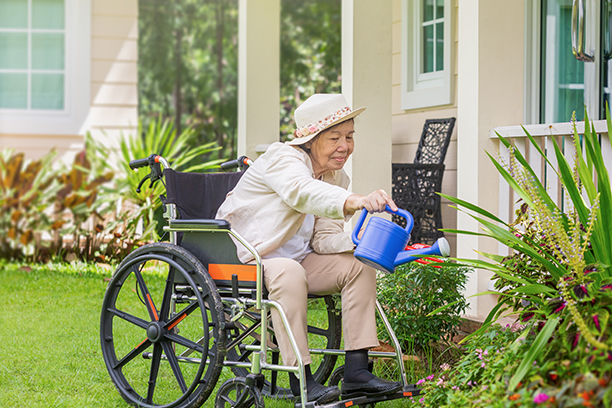 Long Term Care for Seniors in Joplin, MO and the Surrounding Area
Visiting Angels Offers Long Term Care for Seniors in Joplin, Carthage, Neosho, Lamar, Monett, and Nearby Cities
Long Term Care for Seniors assists people with their basic daily activities that may not be easy to accomplish on their own due to physical limitations. It addresses their personal care needs and helps them live their life without putting themselves at risk. Basic personal care needs may include:
Bathing
Dressing
Eating
Using the toilet
Moving around the house (or to and from a chair or bed)
Incontinence Care (assisting people with the inability to control their bladder or bowel functions) as well as other associated hygiene needs.
Aside from personal care needs, the Long-Term Care for Seniors provided by Visiting Angels of Joplin assists clients with daily tasks they need to accomplish such as:
Light housework
Meal preparation and cleaning
Shopping for grocery or clothes
Using communication and other technological devices
Getting involved with the community
Responding to emergency alerts
Where can Long Term Care be provided?
Long Term Care for Seniors is normally provided at the client's home to make them more comfortable and be at ease with the environment. Visiting Angels of Joplin makes it possible to provide all their basic needs and provide optimum care for clients without leaving their homes.
Why Would Someone Need Long Term Care?
In order to continue living life to the fullest in spite of physical limitations, Long Term Care is beneficial not only in helping to accomplish various tasks, but to boost the client's morale and avoid feelings of sadness and loneliness from being disabled. Visiting Angels of Joplin's caregivers provide not only assistance for personal needs and household tasks, but also provide valuable companionship which will be appreciated by clients, especially those with working family members.
Visiting Angels of Joplin
Our caregivers aim to provide our clients with comprehensive care and assistance with their Activities of Daily Living while also building valuable relationships and providing companionship that is often missing from their lives. The care of our staff helps patients live a more fulfilling life despite their condition and helps them be a better part of their family and community.
With Visiting Angels of Joplin's Long Term Care Services, seniors in Joplin, Carthage, Neosho, Monett, and the surrounding area can get the care, assistance, and compassion they need. Contact us today at 417-781-1000 to learn more.
Serving Joplin, Carthage, Neosho, Lamar, Monett, Mt. Vernon, MO and the Surrounding Areas
Visiting Angels
JOPLIN, MO
1736 S Main St,
Joplin, MO 64804
Phone: 417-781-1000