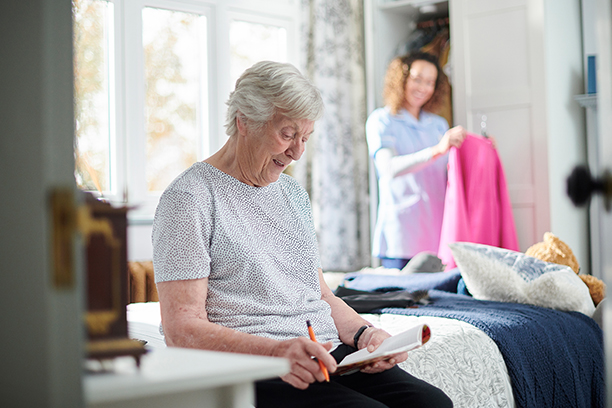 How to Get Started with an In-Home Care Provider in Greater Joplin, MO
At Visiting Angels of Joplin, we know how overwhelming finding quality senior care services can be. Our team is here to help make things simple for families in Joplin, MO, and the surrounding areas.
Visiting Angels Makes It Easy to Get Started with Our In-Home Care Providers in Joplin, Carthage, Neosho, and Nearby Cities
An initial meeting is, in fact, the best way to get started with our in-home care providers. At this meeting, our care coordinator will take the time to review the
essential home care services
that are needed at home, schedule requests, note down any specific requests from clients and their families, and address any concerns at that point. It's a great opportunity to get to know each other as well. Should you and your loved one feel overwhelmed with the amount of information given, we can certainly help by making recommendations since our experts have experience in these matters.
Here are a few examples of what we normally discuss during these initial meetings:
Specific physical needs of the senior pertaining to bathing, grooming, dressing, incontinence, mobility, diet, and meals.
Reviewing sleep, eating, and medicine schedules.
Specific emotional needs such as conversation, activities, companionship, social interaction, and appointments.
Specific assistance with homemaking in regard to meal preparation, grocery shopping, linen changes, laundry, and light housekeeping.
Logistics of schedules, access to the home, documentation, and the details of how to work with scheduling changes, the office, or the caregivers.
How To Get Started with Essential Care Services
Once you contact us, we help you book a free, in-home visit in the comfort of your loved one's home. If you would like to proceed with us at that time, then our senior care coordinator would establish a schedule that suits your loved one's preferences, finalize the elderly home care assistance plan, schedule an in-home visit, and coordinate a meeting with your selected in-home care provider.
Book a Free Consultation
Contact us today at 417-781-1000 to book a complimentary consultation to help your loved one get started with at-home senior care. Your loved one won't even have to leave their home, as our senior care coordinator comes right to you to conduct a free, in-home assessment. We will sit down in the comfort of your loved one's home to discuss their physical and emotional needs. Scheduling is simple, as we have in-home care providers available to help at all hours: day, night, evenings, weekends, and holidays.
Reach out to our team at Visiting Angels of Joplin today!


Serving Joplin, Carthage, Neosho, Lamar, Monett, Mt. Vernon, MO and the Surrounding Areas
Visiting Angels
JOPLIN, MO
1736 S Main St,
Joplin, MO 64804
Phone: 417-781-1000