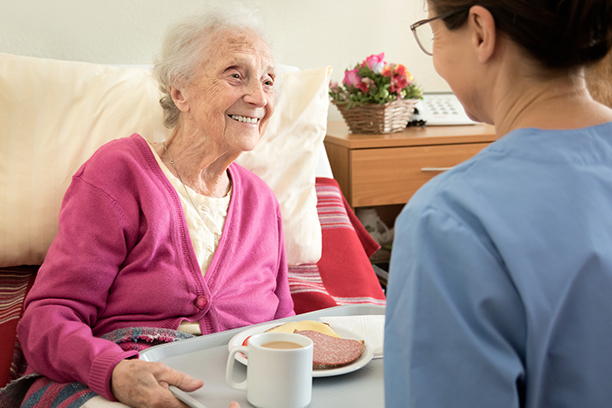 At Home Care in Joplin, MO and the Neighboring Cities
Visiting Angels' At Home Care Helps Elders Remain Independent in Joplin, Carthage, Neosho, Lamar, Monett, and Surrounding Areas
While the idea of at home care may sound frightening at first, it can truly be a blessing to both the family member currently providing care as well as the senior who needs the care.
Taking care of a loved one on a constant basis can be tiring, stressful, and overwhelming. This is escalated even more if you are providing around-the-clock care, even if you are splitting it between a few different family members. Having time to handle your own personal responsibilities can be difficult to achieve and sometimes you just need a break.
So what exactly is at home care? It is a break for the primary caregiver for a set amount of time, letting them spend time away from the senior care patient while a trained caregiver from Visiting Angels of Joplin takes over your day-to-day care.
Three Fundamental Ways Elder Care Can Benefit You or a Loved One
At Home Care's Length Can Be Chosen By You: The real beauty of at home care is that it can be for as short or as long as needed by the family. There is no set time or set hours that limit the care necessary, it is different for every patient.

Respite care is a great option for someone who just needs a break. Maybe you need an afternoon to yourself where you can simply get out of the house and have some alone time, or meet a friend for lunch. Have a family wedding to attend and do not want to worry the whole time about mom? With a Visiting Angels of Joplin caregiver at the house, you will be able to have fun and not worry about a thing.

Because we understand that you still have to live your own life beyond taking care of your loved ones, elderly care is also available in longer situations, such as for vacations. You can relax and spend some much-needed time away with your family without worry.

Senior Care is Beneficial To The Elderly In the Most Comforting Way: The biggest benefit of at home care for the senior who needs help is the ability to stay in their home. Being able to stay in their environment where they are completely comfortable and without having to make any changes to their routine is extremely important. The alternative to in-home elder care is a nursing home where they may have long wait times to get pills or get a nurse to visit. In their home, they are provided with one-on-one care, ensuring nothing changes from what they are used to and avoiding unnecessary stress.

More than Just Care: One of the biggest benefits to using a service that provides in-home elder care is that it is much more than just regular care. While caregivers do provide services like personal care, meal preparation, Alzheimer's or dementia care, and the like, they also provide quality companionship. They become friends with their clients and are there to talk and provide support. Many times it is easier for the patient to talk to caregivers about things they may be afraid of or apprehensive about than it is to talk to their own family. Beyond being a listening ear, our caregivers also tap into their likes and dislikes. They cook their favorite meals, play cards or listen to music on the porch during a nice evening.
Elder Care: Your Choice When You Need The Best
At home care is a great option when you need to step away for whatever the reason may be. Talk it over with your loved one so they understand what is going on and everyone will be comfortable with the arrangements.
Visiting Angels of Joplin is one of the most trusted at home services in Joplin, Carthage, Neosho, Lamar, Monett, and surrounding areas. Contact our office today to see if we are the right fit for your family.
Serving Joplin, Carthage, Neosho, Lamar, Monett, Mt. Vernon, MO and the Surrounding Areas
Visiting Angels
JOPLIN, MO
1736 S Main St,
Joplin, MO 64804
Phone: 417-781-1000