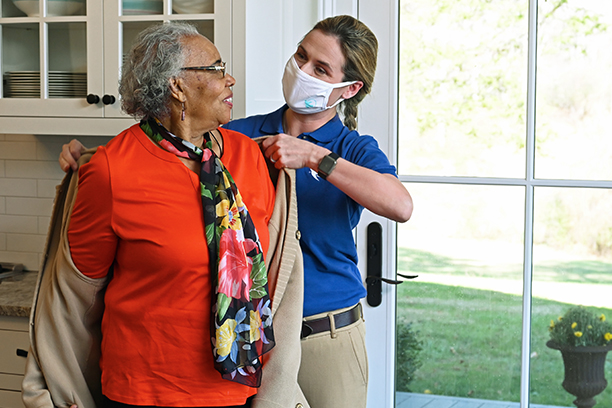 In-Home Alzheimer's Care Services for Seniors with Cognitive Decline in Lancaster, PA and the Surrounding Area
Visiting Angels Answers Your Most Pressing Questions About Our In-Home Alzheimer's Care in Lancaster, Lititz, Elizabethtown, and Nearby Cities
If your loved one has been diagnosed with Alzheimer's Disease, you are more than likely to have a plethora of questions about its effects and Alzheimer's Care options. At Visiting Angels of Lancaster, our caregivers are specially trained in caring for Alzheimer's Disease. We have helped families of all shapes and sizes manage this disease and are happy to answer any of your questions!
What Are the Risk Factors for Alzheimer's Disease?
While scientists are still researching the exact cause of Alzheimer's disease, researchers have identified several risk factors. The three biggest are:
Advanced Age

Genetics

Heart Health
Other risk factors include sleeping problems, high stress levels, heavy smoking, heavy drinking, history of head trauma, and exposure to air pollution.
What Are the Symptoms of Alzheimer's?
Our Alzheimer's services can help with the following challenges:
Disruptive memory loss affecting daily life

Misplacing items

Decreased ability to make decisions

Decreased ability to plan ahead

Difficulty understanding visual images

New or worsening problems

with language

New or worsening confusion about time and place

Difficulty completing familiar tasks

Withdrawal from social activities

Changes in personality or mood
How Does Alzheimer's Disease Progress?
Researchers believe the disease begins many years before symptoms show. Symptoms typically appear in older adults, though some cases of Alzheimer's affect people in their 40's or 50's. At first, symptoms are mild with a minimal impact on the person's well-being. As the disease progresses, symptoms go from mild to moderate to severe. By the final stages of the disease, the person may lose all short- and long-term memory. Speaking and understanding speech might also be difficult or impossible. Eventually, performing basic personal tasks, such as using the bathroom or eating independently could be lost.
Our Alzheimer's Care can be brought on during any stage of Alzheimer's.
What Options Are Available?
If your loved one is suffering from Alzheimer's disease, our caregivers can help with:
Meal Preparation

Mobility Assistance

Personal Hygiene

Medication Reminders

Light Housekeeping

Wandering Prevention

Transportation to Appointments
Learn More Today
To learn more about how Visiting Angels of Lancaster can help your aging loved one, contact our staff to request a free, in-home consultation. We will be happy to meet with you and your aging loved one to go over all our options for Alzheimer's Care and discuss our other home care services, as well!
Serving Lancaster, Lititz, Gap, Bainbridge, Elizabethtown, PA, and the Surrounding Area
Visiting Angels
LANCASTER, PENNSYLVANIA
2141 Oregon Pike 2nd floor,
Lancaster, PA 17601
Phone: 717-393-3450
Fax: 717-509-8384