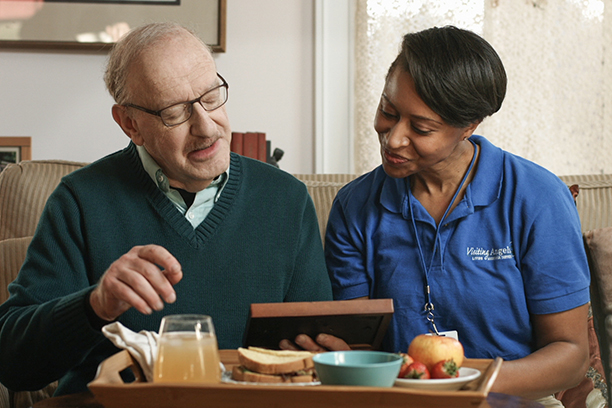 Personalized Senior Home Care Services in Lancaster, PA, and Surrounding Areas
One-on-one care can accomplish many goals your family might have: to make sure a loved one stays healthy, to enable family members to focus on responsibilities other than caregiving and to make sure your loved one has every resource they need for a high quality of life. At Visiting Angels of Lancaster, our senior home care services are fully individualized to meet your loved one's needs. If you are helping to care for a loved one who lives alone, our caregivers are ready to help.
How Visiting Angels' Essential Senior Home Care Services Can Help Families in Lancaster, Lititz, Elizabethtown, and Surrounding Areas
Our services are holistic, meaning we support a senior's physical, mental, emotional, and social health. Our services help your loved one maintain their preferences, habits, and independence within their own home. Our caregivers will incorporate their favorite activities, social opportunities, events, and places to visit in their customized care plans.
Senior Life Care Navigation Programs
Visiting Angels of Lancaster's Senior Life Care Navigation was created to provide our clients with dignified and compassionate care through the right mix of senior home care services.
Our senior care services include:
Clients with degenerative cognitive diseases need specialized assistance; our caregivers can help them maintain emotional and mental health.
A dedicated Angel will work with your loved one to provide daily support and build a kind, communicative relationship.
DEMENTIA CARE
Through our dementia care program, caregivers assist seniors by providing medication reminders, assisting with dressing and bathing, helping with transportation, preparing healthy meals, and more.
END-OF-LIFE CARE
When your loved one's journey is coming to an end, we can provide holistic support for your loved one and your whole family.
PALLIATIVE CARE
Certified palliative care supports a senior's physical, social, emotional, and spiritual needs.
PERSONAL CARE
If your loved one needs help with bathing, grooming, toileting, or dressing, they can receive compassionate and dignified support.
READY-SET-GO HOME — AVOIDING HOSPITAL READMISSIONS
With our Ready-Set-Go Home program, seniors avoid repeat hospital visits after discharge. Our caregivers prepare the home for your loved one's return and help them follow discharge instructions.
SAFE & STEADY FALL PREVENTION PROGRAM
Our caregivers provide essential support to seniors that are fall risks. They can identify potential risks within their home, educate family members on how to prevent falls, and offer mobility assistance.
SOCIAL CARE PROGRAM
If your loved one has faraway friends or family members, social care can be a great tool to maintain those relationships. Our senior care providers can help your loved one access email, texting, video chatting, and social media.
Customizing the Care Around Your Needs
No matter the reason you are seeking out senior home care services, we will collaborate with you to create a care plan that meets your needs. We can then revolve this plan around your family's specific budget and schedule, as well. At Visiting Angels of Lancaster, we dedicate ourselves to providing quality care to your family.
Contact Visiting Angels of Lancaster Today
If you are helping to care for a loved one who lives alone in or around the Lancaster area, call our agency today to learn more about our essential senior home care services.


Serving Lancaster, Lititz, Gap, Bainbridge, Elizabethtown, PA, and the Surrounding Area
Visiting Angels
LANCASTER, PA
1821 Oregon Pk #201
Lancaster, PA 17601
Phone: 717-696-0167
Fax: 717-509-8384