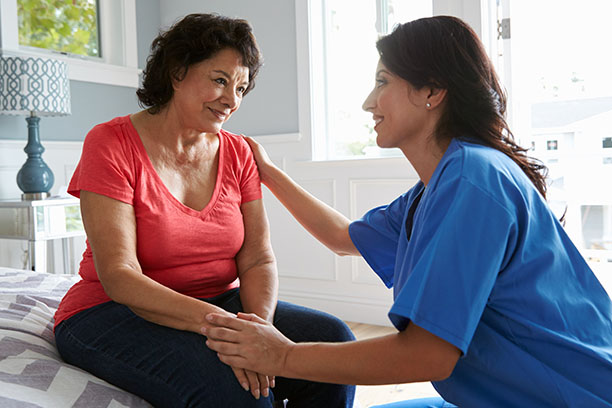 Dementia Home Care for Seniors in Lancaster, PA, and Nearby Areas
For seniors, the diagnosis of a new health condition can be an expected part of going through your golden years. But when that condition is Alzheimer's or dementia, it can be a scary moment for the whole family.
At Visiting Angels of Lancaster, we know that every family wants the best for their aging loved ones, which is why we offer quality dementia home care. It is our job to help your senior loved one attain the best possible quality of life from the safety and comfort of their own home.
Visiting Angels Provides Dementia Home Care to Seniors in Lancaster, Lititz, Elizabethtown, and Surrounding Areas
If a loved one has been diagnosed with Alzheimer's, dementia, or another degenerative disease, many families assume they will have to move into an institutional facility for senior care. In fact, familiar surroundings and the comforts of home can be important to your loved one's emotional health. Our dementia home care services can help you identify any hazards in your loved one's home for slips, trips, or accidents while preserving the nostalgia, experiences, and connections to the family that are so important to your loved one's daily life.
Our dementia home care services are designed to help your loved one maintain a clean, safe, and familiar home environment. Your loved one's care plan might include more intensive assistance, like help with mobility, transportation to medical appointments or day centers, and personal care, including bathing, grooming, and toileting.
A Visiting Angel can assist your loved one with daily tasks such as:
laundry
linens changing
meal preparation
getting the mail
medication reminders
Working with Your Loved One's Medical Team
It is important to find senior care that works in tandem with your loved one's doctors. Our in-home dementia services will reinforce advice from your loved one's doctor while working to decrease your loved one's risk of accident, injury, and illness. We can help your loved one stick to dietary guidelines from their doctor, physical therapy regimens, attending medical appointments, and more. If you cannot attend a doctor's appointment, a caregiver can accompany your loved one and provide you with the details later that day. Our goal is to provide comprehensive assistance that your loved one can rely on to achieve their best health.
Creating a Healthy Routine
Another important aspect of dementia home care is creating a stable, healthy, and comforting daily schedule for your loved one. Having a routine increases feelings of security and well-being while also establishing healthy habits like sticking to your medication schedule, regular meals, and getting regular rest. We will work with you to build a daily plan that is right for your loved one's needs, preferences, habits, and abilities.
Learn More Today
If your loved one has been diagnosed with dementia in Lancaster, Lititz, Elizabethtown, or the surrounding area, you have options for their care. Keep your loved one comfortable at home for longer with essential senior care services from Visiting Angels of Lancaster.
Call our local senior care agency today to learn more about our dementia home care services!


Serving Lancaster, Lititz, Gap, Bainbridge, Elizabethtown, PA, and the Surrounding Area
Visiting Angels
LANCASTER, PA
1821 Oregon Pk #201
Lancaster, PA 17601
Phone: 717-393-3450
Fax: 717-509-8384