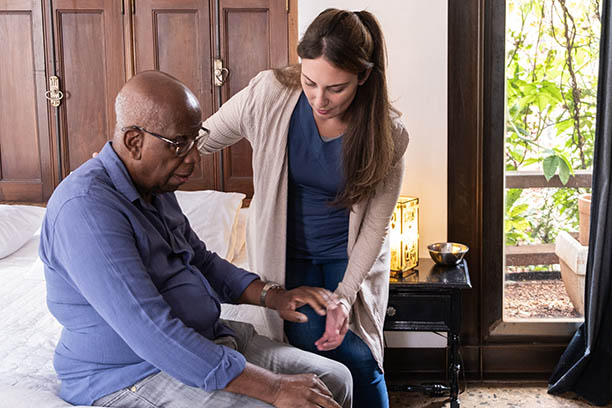 Certified Palliative Care for Aging Adults in Lancaster, PA and the Surrounding Area
At Visiting Angels of Lancaster, we know there is nothing more important than family, which is why we offer Certified Palliative Care to give a holistic approach to our care method. As a loved one begins to age, family members often help with daily needs, and that support structure is so important!
When an Aging Loved One's Health Changes in Lancaster, Lititz, Gap, or a Nearby City, Certified Palliative Care from Visiting Angels Can Make a Difference
Professional support and one-on-one home care can make a difference in your loved one's quality of life. We believe that each of our clients deserves the best out of their golden years, and that is why we incorporate palliative techniques into all our essential personal home care services.
The Difference Between Palliative and Hospice Care
While you might hear the terms "hospice care" and "palliative care" used interchangeably, these terms refer to two different types of care. Both focus on pain reduction and an improvement in quality of life. Hospice care is only used at the end of life, while our care can be integrated into a care plan for anyone at any age. Palliative techniques can help boost your loved one's emotional and mental health even as we focus on better physical health, too.
Care Plans that Revolve Around Your Needs
When you work with Visiting Angels of Lancaster, you will coordinate with our team to build a customized care plan that considers your loved one's specific needs, wants, and preferences. Our palliative care focuses specifically on increasing the comfort and well-being of our clients, especially when your loved one is faced with challenging health, mobility, or ability circumstances. Clients with chronic health conditions or chronic pain can especially benefit from this renewed focus on holistic health.
When you opt for this program our caregivers will look after a senior's:
Physical Health - our caregivers can assist with chronic conditions, provide help with mobility and transferring, plan and prepare meals, and more.
Emotional Health - at Visiting Angels of Lancaster, our caregivers are companions at heart; they will be there for your loved one to support, laugh, cry, and be a shoulder to lean on.
Social Health - our providers are happy to take your loved one out to lunch, to the park, to a social gathering, or wherever they may wish to visit.
Spiritual Health - we support spiritual health and healing, so if your loved one would like to attend church or a religious gathering, we are happy to take them!
Contact Visiting Angels of Lancaster Today
If you are concerned about the health of a loved one who lives on their own in Lancaster, Elizabethtown, Gap, or the surrounding area, Visiting Angels of Lancaster can help. Contact our home care agency today to learn more about our palliative care services and to schedule your free, in-home assessment with one of our care coordinators.
Our caregivers at Visiting Angels of Lancaster are here to assist. Call us today to learn more about how our senior care services can help.


Serving Lancaster, Lititz, Gap, Bainbridge, Elizabethtown, PA, and the Surrounding Area
Visiting Angels
LANCASTER, PA
1821 Oregon Pk #201
Lancaster, PA 17601
Phone: 717-393-3450
Fax: 717-509-8384