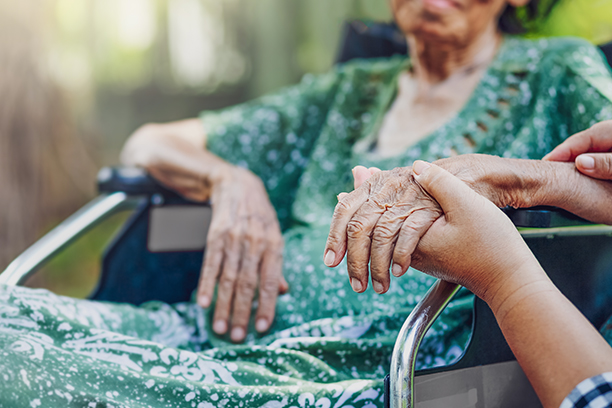 Alzheimer's Services in Lancaster, PA and the Surrounding Area
Visiting Angels Offers Quality Alzheimer's Services to Seniors with Alzheimer's Disease Who Want to Maintain Their Independence in Lancaster, Lititz, Bainbridge, Elizabethtown, and Nearby Cities
When an aging loved one's health starts to change, families are often first in line to help with tasks around the home or daily needs. An Alzheimer's diagnosis often scares families into thinking that a senior loved one cannot remain at home, or that their loved one will be forced to change their lifestyle unwillingly. Alzheimer's could impact daily habits, socializing, and even personality traits, but it does not mean that your loved one cannot stay safe, healthy, and comfortable in their own home. Visiting Angels of Lancaster offers essential in-home Alzheimer's services that can help your loved one stay safe, healthy, and comfortable.
The Warning Signs of Alzheimer's Disease
You might have started to notice warning signs of Alzheimer's; it is important that if you notice these signs, you report them to your loved one's doctor. Your loved one's medical care team can give you more information about your loved one's unique health needs, and even make recommendations for daily care that can help. Early signs of Alzheimer's, dementia, and other cognitive diseases include:
An increase in anxiety, changes in temperament, or mood swings
Changes in your loved one's ability to remember recent events
Inability to keep a schedule or complete a task
Trouble with speech, or trouble articulating complex ideas
Decreased interest in socializing or spending time with people
The Benefits of Alzheimer's Care
With in-home Alzheimer's services, your loved one will have a companion who understands the science behind their needs as well as the need for respect, kindness, and dignity. For instance, your personal care assistant can help with the following:
Establish a daily routine (which extremely important for those struggling with Alzheimer's)
Meal planning and preparation
Medication and hydration reminders
Transportation to appointments
Wandering prevention
On-going monitoring
Companionship
Assistance with personal tasks like bathing, dressing, and grooming
For those with Alzheimer's Disease, these tasks can provide a feeling of comfort or clarity.
While there is no cure for Alzheimer's or dementia, the help of an Angel means your loved one can still enjoy a good quality of life throughout their golden years. Receiving dedicated in-home Alzheimer's services means you will also have a resource who can notice changes in your loved one's physical, mental, emotional, and social health. Because Alzheimer's is degenerative, clients often need to change their care plans over time to make sure their evolving needs are met. Our care plans can be adapted to any changing needs.
Learn More About Our Alzheimer's Care Options
If you are struggling to care for a loved one with Alzheimer's, you do not have to provide care alone. Visiting Angels of Lancaster can provide Alzheimer's care at home to your loved one, and make sure they remain in good health and good spirits for as long as possible. Call today at 717-696-0167 to learn more about our Alzheimer's services in Lancaster, Lititz, Elizabethtown, and the surrounding area.
Serving Lancaster, Lititz, Gap, Bainbridge, Elizabethtown, PA, and the Surrounding Area
Visiting Angels
LANCASTER, PENNSYLVANIA
1821 Oregon Pk #201
Lancaster, PA 17601
Phone: 717-393-3450
Fax: 717-509-8384