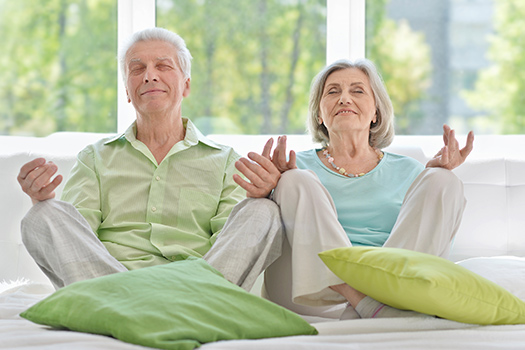 SECRETS FOR SUCCESS AT SENIOR FITNESS IN 2022
Are you living your best life?
Maybe it's time to take charge of your health. Folks start the new year all gung-ho focusing on food and fitness resolutions, but now that it is February, what you really need to be successful is new healthy habits not resolutions. Resolutions tend to fail because of unrealistic expectations. Start slow and stick with it over time, because big changes never happen overnight.
Here are some tips to get you started on your fitness journey for 2022:
Don't start any exercise routine without your doctors blessing. And be sure to call your doctor if you have shortness of breath, dizziness, chest pain or pressure, trouble balancing, or nausea while exercising.
Choose wisely. Go easy on your joints with walking, yoga, biking, swimming or water aerobics.
Don't overdo it, and make sure you are following the proper form and technique for the exercise or activity you pick.
Stretch before you work out to limber up. Stretch after to cool down.
Listen to your body; if it hurts – STOP!
Don't exercise if you have a cold or the flu, tested positive for omicron but are a-symptomatic, or just feel "off."
Choose good shoes, with plenty of support and cushioning. Good shoes will help you keep you keep your balance.
Check out your surroundings, you don't want to trip or fall, whether you are outside or inside. Plus, you don't want the environment too hot or too cold.
Aways stay hydrated!
Be sure to get a good night sleep, and never exercise when you are tired.
Remember exercise not only increases your metabolism and helps control weight, it improves your strength, balance, flexibility, which can reduce your risk of falls. It sends blood and oxygen to the brain, which improves cognition and mental health. You'll sleep better too, and have a feeling of accomplishment as well. Research suggests aerobic exercise of 30 minutes or more a day may delay or improve symptoms of Alzheimer's disease. That's a great reason to get out for a brisk walk!
Reach Out To Us: We encourage Seniors to make light exercise and healthy eating a part of their daily routine, even with mild Parkinson's or Alzheimer's. Contact us at 561-328-7611, if you need help to get up and get going, or out in the fresh air! Our "Angels" can encourage you or a loved one to exercise every day, even drive you to the park for a walk. Our caregivers can also shop for and cook up healthy meals for you, and make sure you remember your medications.
Till Next Time!
Irv Seldin, JD, MA
Owner & President
Visiting Angels of the palm Beaches
This article not intended as medical advice.