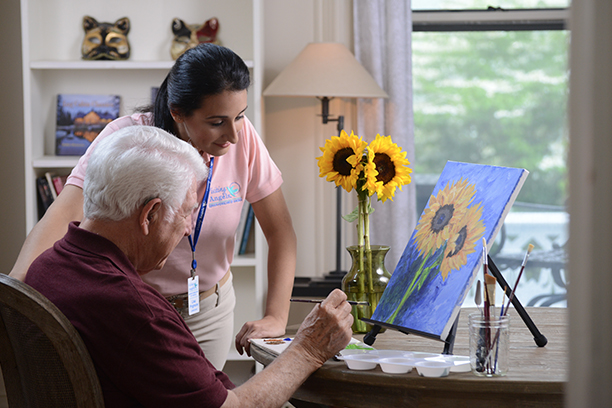 Private Home Care FAQ in Raynham, MA
Q. What kind of private home care services do you provide?
A: Visiting Angels of Raynham offers a wide range of elder care services like personal care and companion care services. Specially designed to provide help with daily living activities, our care services give seniors the support they need to continue to live at home safely, comfortably. Additionally, our in home services may include assistance with things such as running errands, bathing or grooming, meal preparation and feeding, light housekeeping, fluids, and medication reminders, as well as fall prevention.
Q: Do you offer services if my loved one is in an assisted living facility?
A: We do. Often, families realize along the way that their beloved senior is not getting enough help or companionship at an assisted living facility. In these instances, Visiting Angels of Raynham offers qualified caregiving assistance. Depending on the state, some nursing homes or assisted living facilities allow hired private help.
Q: What does the term "aging in place" mean?
A: The term aging in place refers to a senior's ability to stay in the comfort of their own home, or a family member's home, with additional support. Basically, it's the opposite of an institutionalized type of care, such as a long-term nursing home facility. However, at times, aging in place may also mean that an elder is given additional support within an assisted living care facility.
Q: How quickly can Visiting Angels provide private home care?
A: Typically, we can provide clients and families services within 24-48 hours, sometimes even the same day.
Q: If I have an appointment I need to keep, can I change the schedule?
A: Yes, you can, as long as you give us a week's notice. We believe in making the private home care schedule work for you, the client and family. As such, our goal is to do everything in our power to accommodate to your scheduling requests.
Q: If I care, where do I begin?
A: Visit our contact us page. Once you do, we'll conduct a free, no-obligation assessment in your own home. We will then identify the ideal care providers who have the personality, skills, and availability to assist your senior. Upon approval, we'll book your services immediately.
Serving Abington, Avon, Berkley, Bridgewater, Brockton, Dighton, Halifax, Hanson, Holbrook, Middleborough, Plympton, Randolph, Raynham, Rockland, Taunton, Whitman, and Neighboring Towns
Visiting Angels
RAYNHAM, MA
473 S St W #18
Raynham, MA 02767
Phone: 774-501-3861
774-501-3923