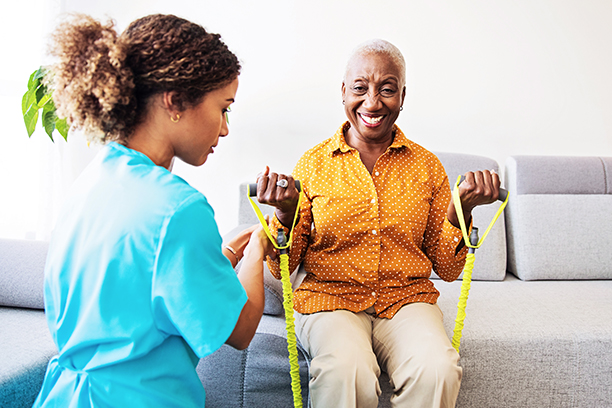 Home Health Care Reduces Readmission in Raynham, MA
Designed to support seniors in their transition from a hospital setting to a home, our Ready-Set-Go home health care program increases the success rate exponentially.
To reduce readmission to the hospital, we utilize a three-step approach as seniors are at high risk for a return during the month after their initial discharge.
Approximately 20% of elderly patients on Medicare who have been discharged from the hospital end up returning within 30 days of being sent home. If seniors are re-hospitalized within this 30-day period, they have a much lower chance of recovery. As such, it's essential to reduce hospital readmission as much as possible.
Committed to improving these statistics, Visiting Angels of Raynham, MA employs our Ready-Set-Go Home program which aims to reduce hospital readmissions. After a hospital discharge, we schedule a skilled, personal home health care provider for your loved one. By coordinating your loved one's return, supporting them through their first weeks back home, and assisting with any transition they may need to get accustomed to, we offer friendly, reliable on-site help when your family needs it the most.
Reducing Hospital Readmissions with Our Three-Step Approach
The reality is, most readmissions can be avoided by simply following the doctor's orders. However, even the most basic task or movement can be difficult, sometimes even impossible, after a major injury or surgery. During this period, it might be hard for seniors to care for themselves and therefore, require an extra set of helping hands.
We give the elderly the support they need with our Ready-Set-Go Home program and home health care services that both increase the chances of recovery and reduce the risk of a readmission. In conjunction with the care given by family members and friends and in accordance with medical directives, we provide services that are personalized for your loved one.
Here's how our three-step Ready-Set-Go Home program works:
At the Hospital: We begin on-site at the hospital while your loved one is still there. During their hospitalization, our aides can visit, offer companionship, and provide other services. At the time of discharge, our support staff can help you navigate through the paperwork and planning.
At the Client's Home: After being discharged your loved one will be provided with a skilled caregiver, ensuring that they are comfortable and safe while they recover. In the meantime, our home health care aides report to you concerning any issues, keeping an eye on everything in the home. Our caregivers can quickly spot changes in cognitive or physical health. As experts in the field, our support staff is well-versed in why elders often fail to follow proper recovery protocols, miss medication doses or skip follow-up appointments. Our goal is to make sure any obstacles are overcome. And, should there be an unpaid family caregiver who needs help, we can assist with respite care.
At the Visiting Angels Office: Throughout the entire process and behind the scenes, rest assured that our Visiting Angels office staff are on-hand to support your family and caregiver. We use program tools that identify clients who are at high risk for re-admission. To make sure this doesn't happen, our home health care aides can accompany your senior to follow-ups, provide an appointment or medication reminder, or assist with the coordination of food delivery, equipment, and medication.
Let us help you plan for an upcoming hospital discharge. Call us for more information.
Serving Abington, Avon, Berkley, Bridgewater, Brockton, Dighton, Halifax, Hanson, Holbrook, Middleborough, Plympton, Randolph, Raynham, Rockland, Taunton, Whitman, and Neighboring Towns
Visiting Angels
RAYNHAM, MA
473 S St W #18
Raynham, MA 02767
Phone: 774-501-3861
774-501-3923