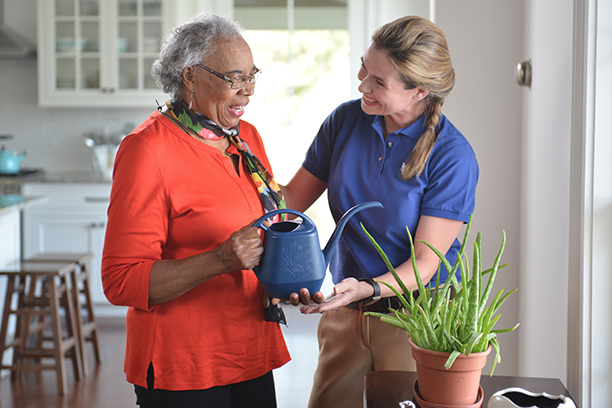 Respite Care in Raynham, MA
The role of the family caregiver comes with responsibilities and stress. Visiting Angels of Raynham, MA provides the respite care you need.
When your loved one is in need of care, you were the first one to step up and be there for them. That's an incredibly commendable and honorable responsibility to take on. Becoming a caregiver involves a variety of different tasks that often take hours upon hours to complete. By the end of the day, you're often physically and mentally exhausted. But, once you need a chance to rest and recharge, who can you trust to step in and provide care for your loved one?
At Visiting Angels of Raynham, we can step in and give you the respite care that you need to get back to your best self. Often, family care providers find it difficult to step away and take care of themselves when their family member is the focus of their attention. To be the best care provider that you can be, you must take care of yourself. You need to exercise regularly, get a proper night's sleep, and regulate your diet. If you're not taking care of your physical and mental state, you won't be able to provide the care that your loved one may need.
How Visiting Angels of Raynham Can Help
When you choose Visiting Angels of Raynham, MA to provide respite care, we'll match you with a caregiver that fits your loved one's needs and your schedule. Whether you need a couple of hours or a couple of days, one of our care professionals can help take the burden off.
It can be strange to invite a stranger into your home. But with our friendly demeanor and conversation, our clients are often put at ease. Our care providers can help with different personal tasks such as dressing, grooming, and providing medication reminders. Also, our care providers can help around the house by doing light chores or preparing healthy meals. The quality of our care and our friendly demeanor will cause your loved one to look forward to these visits and grow comfortably with their caregiver.
Getting Started with Respite Care
If you're slowly beginning to feel burnt out by your responsibilities as a caregiver, there's no better time than the present to look into respite care. If your loved one needs more engaged care in the future, we can provide that as well.
To find out more about Visiting Angels of Raynham, MA and our respite care, contact us.
Serving Abington, Avon, Berkley, Bridgewater, Brockton, Dighton, Halifax, Hanson, Holbrook, Middleborough, Plympton, Randolph, Raynham, Rockland, Taunton, Whitman, and Neighboring Towns
Visiting Angels
RAYNHAM, MA
473 S St W #18
Raynham, MA 02767
Phone: 774-501-3861
774-501-3923