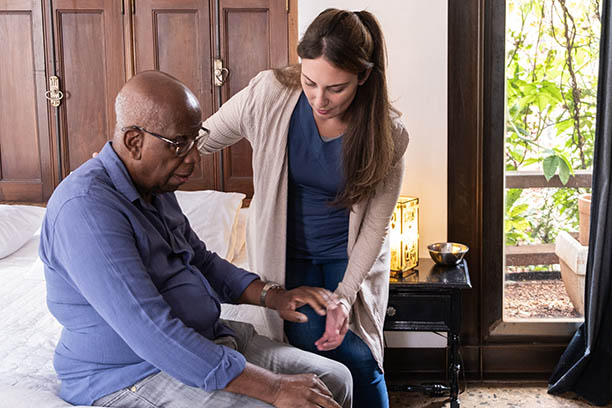 Palliative Care in Raynham, MA and the Surrounding Area
In a normal conversation, palliative care is often used interchangeably with hospice care. But the truth is, these two types of care are distinctly different and cater to two completely different kinds of clients. Hospice care is a specific realm that caters to clients that are nearing the end of their life. On the other side of the spectrum is palliative care, which strives to cater to and ease the discomfort of all clients.
At Visiting Angels of Raynham, our goal is to enrich the lives of all our clients through specialized care and assistance.
Our Certified Palliative Care Program Assists Seniors in Taunton, Brockton, Randolph, and Nearby Cities
Our collection of senior care services, entitled Life Care Navigation, includes our Certified Palliative Care. This wide spectrum of services also includes end of life care, which specializes in easing the discomfort of those going through that stage of life.
We teach our caregivers to approach care with a holistic mindset. We want to restore hope within our clients and assist with the healing process.
To achieve those goals, Visiting Angels of Raynham specializes our care to help our clients through every aspect of their well-being. We work through their physical, social, mental, and spiritual needs.
Physical needs: We assess and acknowledge their physical signs and cues, so we can respond accordingly through essential personal home care services.

Social needs: We help them strengthen their relationships with their own family and friends. Also, we provide companionship and conversation through our care.

Emotional needs: We put our compassion at the forefront when providing care to our clients. We also support clients that are going through depression, loneliness, stress, and anxiety.

Spiritual needs: We help our clients restore hope back into their lives. Also, we help them find comfort and relief from the difficulties that come with old age while treating our clients with respect and dignity.
Call to Schedule a Free Consultation
Does your loved one need care? Contact Visiting Angels of Raynham today at 774-501-3861 to learn more about our approach towards home care and schedule an initial consultation.
Serving Abington, Avon, Berkley, Bridgewater, Brockton, Dighton, Halifax, Hanson, Holbrook, Middleborough, Plympton, Randolph, Raynham, Rockland, Taunton, Whitman, and Neighboring Towns
Visiting Angels
RAYNHAM, MA
473 S St W #18
Raynham, MA 02767
Phone: 774-501-3861
774-501-3923