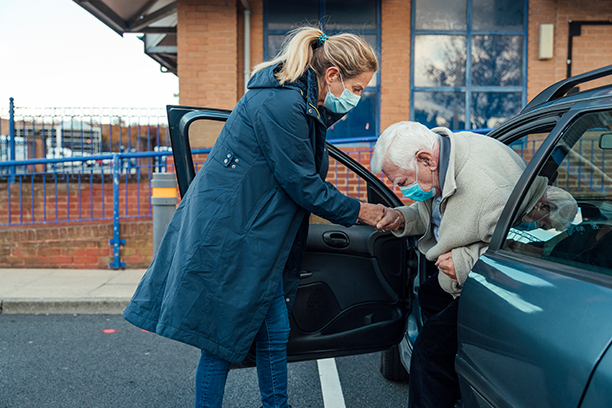 Home Care Providers in Schererville, IN and the Surrounding Area
Visiting Angels Only Hires the Most Experienced and Compassionate Home Care Providers in Schererville, Crown Point, Valparaiso, and Nearby Cities
Many elders dislike the idea of being put in a nursing facility and would rather stay in the comforts of their home. After all, there is no place like home. If your loved one is adamant about not leaving home, then the best thing that you can do is to talk with Visiting Angels of Schererville to discuss getting a home care provider. But what do you get from receiving care services from our professionals? There are multiple advantages that you can enjoy from seeking our services.
Visiting Angels of Schererville Provides Welfare to The Entire Family
When you hire our in home care providers to care of your loved one, you do not only look after the welfare of your loved one but also the entire family. We understand that it takes two to tango, so we get you involved when it comes to the care of your elderly loved one. But we will not force you to do it. What you can do is educate us on the current condition of your loved ones and how you can help care for them.
Provide Conducive Environment for Clients
We understand the importance of getting treated with respect, care, and dignity. And so aside from meeting their physical needs, we also provide emotional support to the entire family. We take pride in their job and they ensure that they provide a supportive environment for their clients.
Allow Customization of Services
Licensed in home care providers, like the ones from Visiting Angels of Schererville, are adept at handling different clients. We understand that no two clients need the same service thus they can customize or personalize their care services to meet the demands and preferences of their clients. Customization does not only mean that your loved ones will only get the desired and recommended care service, but it also means savings on your part.
Our home care providers offer the following services:
Contact Visiting Angels of Schererville
When it comes to looking for an agency that can refer you to good caregivers, it is important to seek help from those that are connected to a huge network of care providers. With Visiting Angels of Schererville, you can easily find the home care provider who can take care of your elderly loved ones. Contact us today at 219-500-5896 to learn more!
Serving Schererville, Crown Point, Valparaiso, Munster, Dyer, and the Surrounding Area
Visiting Angels Schererville, Indiana
2340 Cline Ave
Schererville, IN 46375
Phone: 219-500-5896