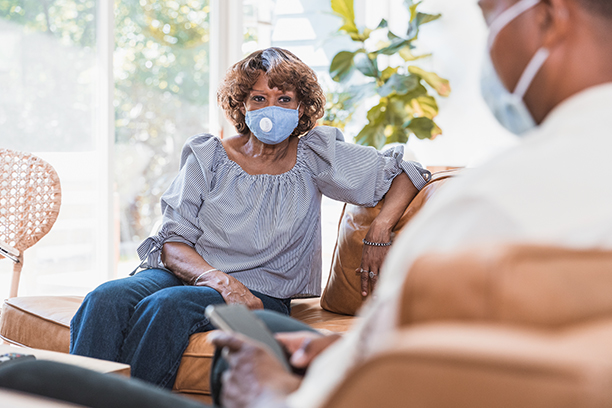 Our In Home Care Providers Help Prevent Falls in Greater Schererville, IN
Visiting Angels' In Home Care Providers Strive to Eliminate Falls Among Seniors in Schererville, Crown Point, Valparaiso, and Surrounding Areas
Did you know that the big reason why seniors lose their independence is because of falls?
Not only do falls result in physical harm, but they also have an emotional and social effect on the life of a person. In the end, this means that because of a fall, the life of a senior will essentially change in an instance, dramatically changing their quality of life.
Unfortunately, the fear of falling also leads seniors to refuse social invites, avoid leaving the house, and skip family gatherings. This behavior will ultimately lead to emotions of social isolation, loneliness, anxiety, disappointment, and depression. Our in home care providers want to help keep your loved one from experiencing this.
Falls Are Life-Changing
Without exception, falls are life-changing, resulting in accidents, injuries, and a lower quality of life. Here are a few statistics you may find shocking:
1 in 3 seniors falls every year, with 1 in 5 sustaining injuries such as fractures, a broken hip, and concussions, among other things.
Once an elderly individual does fall, they're more likely to fall again.
Annually, more than 800,000 people are hospitalized due to falls.
It can take up to 12 months in a long-term care facility to properly heal from injuries due to a fall. Of those who fall, many are not able to return home ever again.
Falls Don't Just Happen!
Normally, falls are caused by one or more risk factors, an element that increases the likelihood of someone falling. Risk factors may be linked to the home environment or a physical condition or medical problem. A few examples of risk factors are poor eyesight, arthritis, dehydration, taking multiple medications, and lack of grab bars in the bathtub. However, falls can help be prevented by identifying and addressing potential risk factors, something that our in home care providers are happy to assist with.
Injury Prevention With Visiting Angels of Schererville
Falls and injury prevention are an ongoing issue and a considerable challenge to older adults. As a leading senior care agency, our in home care providers are committed to reducing falls by educating and assisting seniors and their families. Reducing falls is indeed a crucial issue, one that can greatly limit an elder's quality of life. But with a qualified caregiver at hand and risk factors eliminated, falls can be considerably reduced, if not removed entirely.
Our in home care providers can help, call Visiting Angels of Schererville to book your free, in-home assessment and falls risk evaluation today!
Download Your Free Safe and Steady Fall Prevention Resource Guide today.
Serving Schererville, Crown Point, Valparaiso, Munster, Dyer, and the Surrounding Area
Visiting Angels Schererville, Indiana
2340 Cline Ave
Schererville, IN 46375
Phone: 219-500-5896