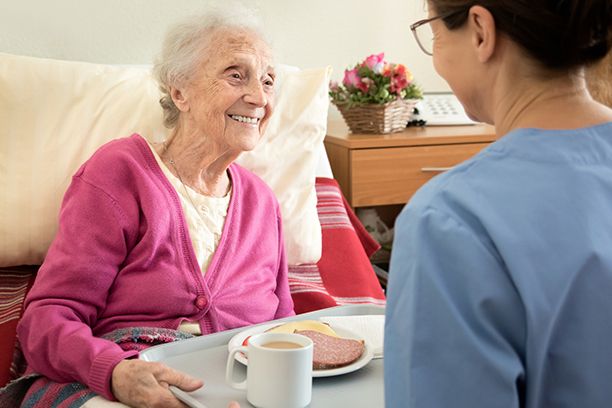 Our Home Care Specialists Offer Meal Preparation to Seniors in Greater Schererville, IN
Our Home Care Specialists Assist Seniors with Meal Preparation in Schererville, Crown Point, Valparaiso, and Surrounding Areas
A healthy diet is important for all of us and there is a long list of positive health impacts connected to improving your diet. Home care specialists are experts in the dietary habits that can encourage the best health especially for seniors, who need to watch their diet more than anyone. Senior care providers understand how to adjust meal plans and diets to meet seniors' individual health needs. For seniors, a healthy diet is essential because it is one of the key ways to stay healthy, active, and comfortable as you age.
How Caregivers Help Maintain a Healthy Diet for Seniors
Maintaining a healthy diet can be challenging for seniors. Changes in mobility or access to transportation can mean some seniors are unable to grocery shop at full-service stores or as frequently as they need. Changes in physical health can mean that dietary changes need to be made but adjusting habits can be hard for all of us. Home care specialists can help your aging loved one access the services and assistance they need in order to access fresh produce, healthy ingredients, and keep up a healthy diet:
Transportation: many seniors need help getting to the grocery store and running errands. Senior care providers can assist with safe transportation around town, including to the grocery store of your loved one's choice.
Mobility: changes in mobility can make running errands particularly difficult for seniors. Aides can help your loved one use their mobility devices effectively and can also provide grocery shopping services and other assistance.
Medication reminders: since side effects from medication, or the health conditions that medications help with, can have an impact on foods and digestion, caregivers are trained to establish a daily routine with your loved one of the appropriate medication regimens. This can also help mediate side effects and digestion impacts.
Meal preparation: kitchen tasks can be especially difficult for seniors with arthritis and other conditions. Our caregivers understand the unique needs of your aging loved one, and can assist with meal planning, preparation, food storage, and kitchen clean-up.
Does Your Aging Loved One Need Meal Preparation?
Visiting Angels of Schererville can help if you are concerned about an aging loved one who lives alone in Schererville or the surrounding area who may not be able to keep up a balanced diet on their own. Contact our agency today by clicking one of the buttons below to learn more about how our home care specialists can improve the standard of living for your loved one.
Serving Schererville, Crown Point, Valparaiso, Munster, Dyer, and the Surrounding Area
Visiting Angels SCHERERVILLE, INDIANA
2340 Cline Ave
Schererville, IN 46375
Phone: 219-500-5896