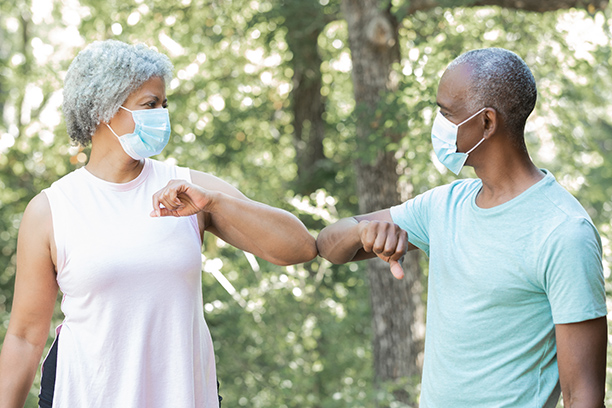 Care for Seniors with Lewy Body Dementia in Schererville, IN and Nearby Areas
As the condition worsens, seniors diagnosed with Lewy Body Dementia will need constant supervision. It's difficult to see a loved one with dementia worsen over time, and it's much more challenging to find the best care for them. The decision to place a loved one in assisted living is made by many families. However, being in an unusual setting might have a negative impact on their well-being.
Elderly people benefit most from receiving care in the comfort of their own homes. However, many loved ones providing care for the elderly are unprepared to handle the challenges posed by dementia. That's why Visiting Angels is here to help seniors in Schererville and nearby areas, who are afflicted with a degenerative cognitive disorder have access to high-quality treatment. You may rely on our skilled and supportive caregivers to help your loved one cope with symptoms and perform routine duties. As a result of our efforts, elderly people with this condition will have the resources they need to spend their golden years at home, where they feel most comfortable.

Signs and Symptoms of Lewy Body Dementia that Seniors in Schererville and Surrounding Areas Should Be Aware Of
Lewy Body Dementia, or LBD, is a progressive neurodegenerative disorder that causes severe cognitive and physical impairment. More than one million individuals in the United States are living with this disease, making it one of the most common forms of dementia. Despite its prominence, LBD is poorly understood and often misdiagnosed in its early stages.
Lewy bodies are a kind of protein cluster seen in the nerve cells of the afflicted regions of the brain. Like other kinds of dementia, this illness worsens with time, so your loved one will eventually need ongoing care.
Some of the most common symptoms are:
Changes in the way a person thinks or reasons
Noticeable memory loss
Difficulty focusing, seeing, and moving around
Repetitive visual hallucinations
Issues sleeping
Mood disorders (depression, apathy, etc.)
Trouble with movement, such as soreness and stiffness
Disruptions in the autonomic nervous system, causing irregular heart rhythms and digestive problems

How Care from Visiting Angels Can Help Your Loved One
Visiting Angels of Schererville has been providing care for elders with Lewy Body Dementia for many years. Our caregivers have the skills, training, and understanding to provide excellent in-home care to your loved one. Safety, symptom management, and continued comfort are just a few of the many areas in which we can lend a hand; we also provide companionship services to make their day-to-day routine more enjoyable.
It's possible that family caregivers may burn out under the responsibility of providing sufficient care for a loved one as LBD worsens. Dementia care from Visiting Angels can help fill the gaps and give support to families.
Our caregivers will aid your loved one by providing care such as:
We also provide continuous monitoring for our elderly patients diagnosed with Lewy Body Dementia. This will allow us to keep you informed of any changes in your loved one's condition or care requirements. You can rest easy knowing your loved one is being cared for by a trusted professional, as well as having an extra set of eyes and ears on them.
Call our office today for more information or fill out the form below for a free, in-home consultation!


Serving Schererville, Crown Point, Valparaiso, Munster, Dyer, and the Surrounding Area
Visiting Angels
SCHERERVILLE, INDIANA
2340 Cline Ave
Schererville, IN 46375
Phone: 219-500-5896
Fax: 219-322-6144