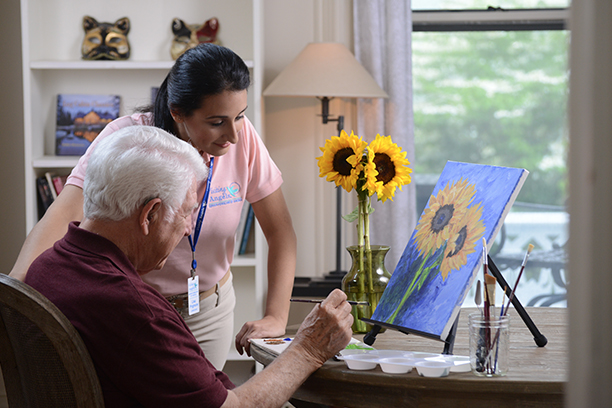 Senior Caregivers Manage Chronic Illnesses in Schererville, IN
A senior caregiver from Visiting Angel provides living assistance support for seniors in Schererville, Indiana, and the nearby areas.
What Is a Chronic Illness, Exactly?
Medical professionals must have treated a condition for at least a year before deciding if it is chronic.
Even the most fundamental tasks may become more challenging due to these disorders, which may significantly impact a person's quality of life.
A category of illnesses that endure for a long time is called "chronic diseases."
They include osteoporosis, arthritis, asthma, breathing issues, diabetes, heart disease, various malignancies, and other conditions.
If they get in-home care, people with chronic diseases might not be able to spend their golden years in their own homes without assistance.
What Advantages Do I Get If the Angels Visit My Home?
Caregiving for an older adult with an age-related chronic disease may be challenging for family members.
Many older adults value their freedom despite chronic illnesses, so placing a loved one in an assisted living or nursing home may seem like an intelligent choice, but it could be devastating for them. Visiting Angels of Schererville, Indiana, provides in-home care services to assist your loved ones in receiving the care they require.
Our individualized home care services are tailored to each client's unique needs. Many people with chronic illnesses now have access to treatments that let them control their illnesses and stay safe and healthy in their own homes.
Our elderly caregivers play a crucial role in ensuring the health of seniors with chronic conditions.
Some of the ways our home health care specialists assist our clients include the following:
Meal planning and preparation
Vacuuming, dusting, and sweeping are examples of light housework.
Helping the elderly with clothing and personal care
Attention to incontinence
Alerts to take your medications
Assist with daily tasks
Compassion-filled respect for those who are nearing the end of their lives
Techniques for Preventing Falls
If you hire a caregiver from Visiting Angels of Schererville, IN, to look after your loved one, their days will be less stressful, and they will experience fewer health issues.
You may be sure that your loved one will be capable and have deft hands because we must thoroughly vet potential team members.
For more information on the advantages of having a senior caregiver visit your home for you or a loved one, please contact our Schererville, IN, office immediately.
Serving Schererville, Crown Point, Valparaiso, Munster, Dyer, and the Surrounding Area
Visiting Angels
SCHERERVILLE, INDIANA
2340 Cline Ave
Schererville, IN 46375
Phone: 219-500-5896
Fax: 219-322-6144