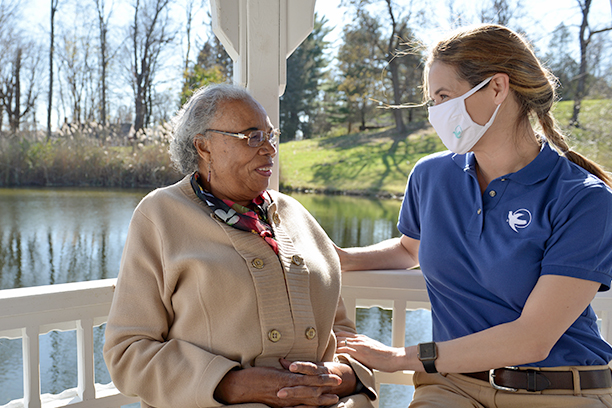 Long-term care in Schererville, IN, and the surrounding areas
Visiting Angels long-term care services are available in Schererville, IN, and the surrounding areas.
Over time, elderly persons may experience age-related challenges or be diagnosed with illnesses that make it harder for them to complete activities of daily living. It can be difficult for older persons who have Alzheimer's disease or Parkinson's disease and cancer and other illnesses and disorders to complete even seemingly simple duties such as getting dressed, walking from one room to another, or cleaning dishes. On the other hand, your loved one may still cherish their independence, in which case an assisted living facility may not be the ideal solution.
To help them manage their symptoms in the comfort of their own homes, Visiting Angels provides long-term care for elders in Schererville and the neighboring counties.
The services provided by Visiting Angels Schererville for long-term home care involve
Our caregivers can assist your loved ones with the personal care they require to make life at home a little bit more comfortable for them. In our long-term care plans, we include the same services that our clients need to maintain their safety, health, and comfort in their own homes.
Our caregivers can assist in a variety of ways, including the following:
Creating a healthy food plan and cooking nutritious meals
Assisting your loved one in the bath and dressing
Assisting with grooming, hygiene, and incontinence management
Preventing falls through the offering of mobility aid.
Providing transportation for your loved one to and from doctor's appointments and errands
Light housekeeping
Reminders to take medication
The use of our home care services can make it simpler for your loved one to properly manage age-related challenges and symptoms of diagnosed disorders by assisting them in maintaining a healthy routine in familiar settings.
How can long-term care benefit my family member?
On a long-term basis, our in-home care services can be quite beneficial to your loved one. Here are just a few of the numerous ways that long-term care can benefit seniors:
When it comes to seniors suffering from chronic illnesses, our critical personal care services can assist them in managing their symptoms and maintaining a healthy lifestyle.
Seniors who have Alzheimer's disease, Parkinson's disease, ALS, and other memory and cognitive ailments receive support with daily chores and continual monitoring from attentive and sympathetic caregivers who are committed to their well-being. These measures can assist them in preventing falling, roaming, and anything else that could put their health at risk.
Individualized companionship and assistance with personal tasks for seniors getting cancer treatment in their homes can provide meaningful companionship and assistance throughout treatment that may become difficult for them to complete independently.
Our services help them maintain their independence while remaining comfortable and safe in their familiar surroundings by providing comprehensive and adaptable care for seniors with irreversible visual and mobility difficulties.
How can my loved one afford senior care at home?
Long-term care can be prohibitively expensive for some families, which is understandable. Fortunately, a long-term care insurance policy may be able to assist your loved one in defraying the costs of medical treatment. Your loved one may be qualified to use these benefits to get paid for the cost of professional home care services after a specified length of time if they require assistance. If your loved one already has an insurance policy, speaking with an insurance broker can assist your family in understanding the specifics of their approach. If a loved one needs long-term home care services, please immediately contact our Schererville, IN office.
Serving Schererville, Crown Point, Valparaiso, Munster, Dyer, and the Surrounding Area
Visiting Angels
SCHERERVILLE, INDIANA
2340 Cline Ave
Schererville, IN 46375
Phone: 219-500-5896
Fax: 219-322-6144