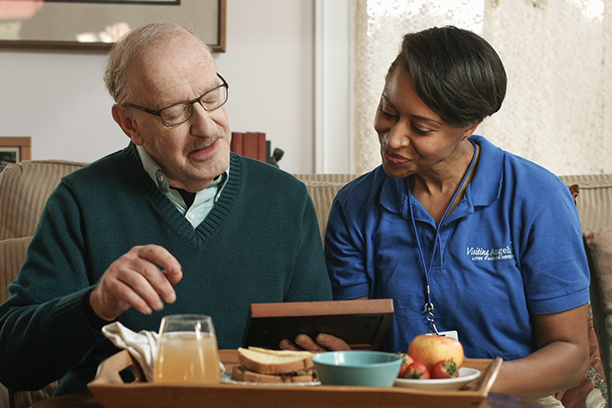 Certified Palliative Care Throughout Schererville, IN and Neighboring Communities
Visiting Angels Provides Certified Palliative Care Services in Schererville, Crown Point, Valparaiso, and Surrounding Areas
Whether you want to provide care for your terminally ill or recuperating loved one, opting for Certified Palliative Care is the best thing that you can do for them. Oftentimes, holistic care gets confused with hospice care, but they are two different services. While both are designed to relieve discomfort in patients, hospice is limited to people who are nearing the end of their lives, whereas our care is focused on the well-being of patients regardless of their life expectancy.
Holistic Approach to One-on-One Care
At Visiting Angels of Schererville, our approach to home care is holistic, focusing on many facets of a person's life such as their physical, emotional, social, and spiritual needs. We designed a Certified Palliative Care program for Schererville and the surrounding area that goes beyond what traditional private duty home care provides. Below are the different types of support that our caregivers provide to enrich the lives of our clients.
Physical care: Our caregivers are trained to recognize and respond to the signs that are common to elderly patients. They provide care to make them comfortable. Examples of the physical care we provide include hygiene assistance, meal preparation, feeding, mobility, and light housekeeping to name a few.
Emotional care: We understand that most senior patients suffer from depression, anxiety, and other forms of mental distress. Our caregivers adopt a compassionate approach when interacting with your loved ones.
Social care: Our caregivers can help address the social needs of your loved one by helping them build a relationship with family and friends via technology. Our caregivers provide companionship and conversation so that they can fulfill their social functions.
Spiritual care: Regardless of religious backgrounds, our home care specialists can restore hope by helping your loved one find solace and relief from their difficulties.
The Benefits of Holistic Care at Home
Visiting Angels of Schererville's Certified Palliative Care Program offers many benefits to seniors in need of holistic care:
Seniors can stay where they are most comfortable: home

Our services revolve around your schedule times and preferences
We focus on a senior's health AND happiness - putting their needs, wants, desires, and aspirations first
Seniors typically can avoid extra doctor's visits due to a dedicated caregiver assisting them with pain and illness symptoms

Essential Care from Visiting Angels of Schererville
It is our focus to provide for the needs of your loved one so that they will feel secure and comfortable while receiving care at home. If you think you and your family could benefit from our Certified Palliative Care program, be sure to contact one of our care coordinators at 219-500-5896 so that they can arrange a free, in-home assessment to discuss our services, costs, caregivers, and your needs.
Serving Schererville, Crown Point, Valparaiso, Munster, Dyer, and the Surrounding Area
Visiting Angels in Schererville, IN
2340 Cline Ave
Schererville, IN 46375
Phone: 219-500-5896