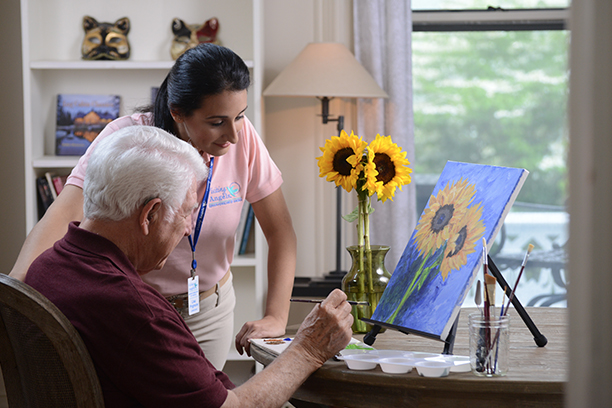 Home Care Assistance in Schererville, IN and the Surrounding Area
Deciding which nursing home you need to enroll your elderly parent in can be frustrating. What makes it more difficult is when your parents are unwilling to go into a care facility because they don't want to leave their homes. Deciding for the entire family can be downright exhausting, but you don't need to stress yourself too much, especially since you can rely on Visiting Angels of Schererville for home care assistance.
Visiting Angels Is the Leading Provider of Home Care Assistance for Seniors in Schererville, Crown Point, Valparaiso, Munster, Dyer, and Nearby Cities
Visiting Angels of Schererville specializes in providing home care assistance to our clients who wish to continue residing in their homes. By providing your loved one with a constant supply of skilled care providers, you will be able to find a licensed and insured care provider that can take care of your elderly parent.
Visiting Angels of Schererville has Licensed and Insured Care Providers
But the question is, how do you find the right senior care professional? There are so many agencies that can refer you to caregivers; thus, finding the right can be very tricky. The first thing that you need to do is to look for those who will ensure the safety and comfort of your loved one. Look for someone who can easily adjust to the routines of your elderly parent.
After all, the reason why clients don't want to stay in a nursing home is that they don't want their schedule to be micromanaged. Visiting Angels of Schererville provides a caregiver who can adjust to the schedule of your parent.
Personalized Senior Care for Each Client
Since no two patients are the same, we develop personalized care plans to suit each and every elder's needs. Our caregivers anticipate what their patient's needs are in order to make them comfortable.
As the primary caregiver, it is important that you ensure the right home care assistance is being provided to help them with activities such as:
Learn More Today
Our senior care providers are ready to assist you and your family. Our customized care plans are beneficial to those who are looking to age in the comfort of their homes. Contact Visiting Angels of Schererville at 219-500-5896 to learn more about our senior support services in Schererville, Crown Point, Valparaiso, Munster, Dyer, and the surrounding area.
Call Visiting Angels of Schererville today to schedule your free in-home consultation!


Serving Schererville, Crown Point, Valparaiso, Munster, Dyer, and the Surrounding Area
Visiting Angels
SCHERERVILLE, IN
2340 Cline Ave
Schererville, IN 46375
Phone: 219-322-6100
Fax: 219-322-6144