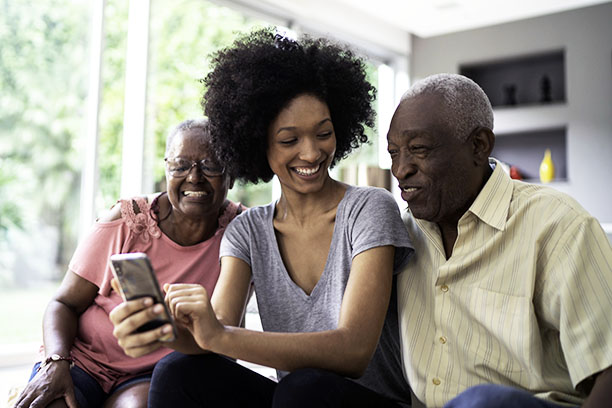 Social Care for Seniors in the Greater Schererville, IN Area
Your loved ones does not only need physical care in order to function properly but their social needs must also be met. How do you provide social care if your loved one is confined in their home due to limited mobility? Thanks to technology and Visiting Angels of Schererville's social care for seniors, it is now possible for your loved one to communicate with others and do activities that will enrich their lives.
Visiting Angels' Social Care for Seniors in Schererville and Surrounding Areas Help Seniors Stay Connected to Their Loved Ones Through Technology
How exactly can technology help with social functions? Studies suggest that surfing the internet can help reduce depression in the senior population by as much as 20%. Those who use Facebook showed a 25% improvement in their mental updating skills, particularly in their working memory. In fact, elderly people who visit and use social networking sites have better emotional experiences marked by stable breathing rates, pupil dilation, and brain stimulation.
Thus, even if your loved one has limited mobility, nothing should stop them from interacting with others by using technology. While technology presents many benefits in terms of the socialization of elderly loved ones, the challenge here is how to make your loved one comfortable when it comes to using technology. Just like water and electricity, technology and old age do not work well together. Many seniors are still adamant about not using technology because they think that it is too complicated for them.
Our Social Care Program
What they need is proper training and guidance when using technology, particularly the internet, to communicate with their loved ones. This is where our social care for seniors comes in. Our social care program is designed to teach our clients how to utilize modern technology to their advantage. Our home care providers can help them connect to their families by using different platforms like Skype, Facebook, and FaceTime.
Part of our social care program involves teaching them how to use mobile phones and their apps, how to send emails, and how to use Skype or FaceTime. Our home care providers can also assist them in making their own Facebook accounts to interact with families and even with long-lost friends. The program also teaches them how to search for information, stream videos, and shop online. It is our goal to enrich the lives of our clients by using the internet as a platform.
Contact Visiting Angels of Schererville today to learn more about our home care services and our social care for seniors!


Serving Schererville, Crown Point, Valparaiso, Munster, Dyer, and the Surrounding Area
Visiting Angels
SCHERERVILLE, IN
2340 Cline Ave
Schererville, IN 46375
Phone: 219-322-6100
Fax: 219-322-6144