Prevent Wandering With Dementia Care Services in Greater St. Charles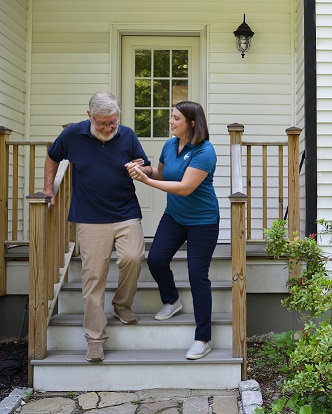 When a family member progresses through the stages of dementia, it can be upsetting and difficult for everyone involved. At Visiting Angels® Greater St. Charles, we're here to help. Through dementia care services, we support seniors with dementia as well as their families, alleviating many daily challenges and complexities.
One of the big challenges of dementia is dealing with wandering. Let's take a closer look at what that is and what can help.
3 Warning Signs For Wandering
When seniors have dementia, getting lost or confused, leaving the home, and wandering are all common. A significant majority of those with dementia or Alzheimer's will wander, and many wanderers do so frequently. Look out for one or more of these signs:
Confusion. For loved ones with Alzheimer's or dementia, it's not unusual to have a resurgence of old priorities. Maybe they believe they must get to work. Maybe they ask after family or friends who are no longer present. These can be indicators that they're losing track of their surroundings.
Disorientation. Sometimes, those with dementia or Alzheimer's may struggle to remember once-familiar routes. They may even struggle to get to the bathroom or may take longer to return home from an outing. This can be an early warning sign of wandering.
Restlessness. When seniors with dementia get restless, wandering is a more frequent occurrence. If your family member is pacing, dealing with anxious thoughts, or making repetitive movements, these can be signs of restlessness. It can signal the potential for wandering.
Dementia Care Services and Other Solutions
Wandering can be dangerous for seniors, and it can take a toll on family caregivers as well. For those in Greater St. Charles, here are a few options to consider:
Identify warning signs. Take note of when your loved one is especially at risk of wandering, whether it's brought on by a time of day or other potential causes. Find activities that keep them occupied or at ease during these instances.
Create structure and support. For those with dementia, certain experiences, like going to crowded or unknown areas, can be extremely chaotic. Try to minimize these experiences, while building a familiar, comfortable routine.
Dementia care. Professional caregiving can help with all of this and more. With regular dementia care in place, your loved one will always have someone nearby, making sure they're all right.
Find Meaningful Support in Greater St. Charles
We offer dementia care services for seniors and their families in:
Greater St. Charles
Orchard Farm
St. Charles
St. Peters
And throughout the surrounding area
Get support for your loved one. To learn more about our dementia care services, call Visiting Angels Greater St. Charles.