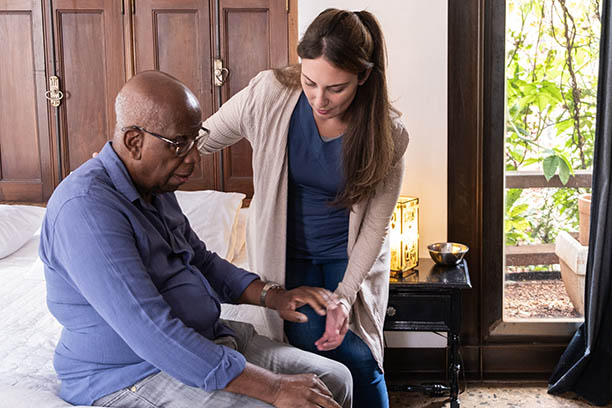 Palliative Care in Vienna, VA, and the Surrounding Areas
The palliative care provided by the staff at Visiting Angels doesn't just focus on one area of your loved one's health. Instead, we take a holistic, well-rounded approach to ensure your loved one's physical, emotional, spiritual, and social needs are met,
What to Know About the Palliative Care Provided by Visiting Angels in Vienna, VA, and Surrounding Areas
What is palliative care?
Palliative care is designed to reduce discomfort and stress from chronic problems or injuries. Designed to improve quality of life, it can be provided regardless of life expectancy.
How does Visiting Angels provide this type of in-home care?
The program we utilize focuses on four needs areas: physical, emotional, social, and spiritual.
Physical needs include increasing personal comfort and working with your loved one's doctors, nurses, and others to coordinate this care.
Our staff helps with your loved one's emotional needs by finding ways to make life more enjoyable and helping them reduce stress, depression, and anxiety.
The social needs aspect is utilized by developing close relationships between our staff and your loved one who needs help, and your family helps provide companionship.
Finding and restoring peace of mind in trying times is the way we help you and your loved one meet their spiritual needs.
What are some examples of this type of home care?
Our senior care services heavily depend on the patient and their needs.
It may include assisting with personal activities such as dressing, helping your loved one engage with a favorite pastime, or giving them someone to engage in conversation with. We also work to create a relaxing environment for your loved one, no matter their situation.
Can this care be provided at home?
Yes! The staff at Visiting Angels of Vienna, VA, and surrounding areas specialize in bringing this type of home care to you and your loved ones. We can assist people with conditions such as heart disease, kidney disease, Alzheimer's disease, cancer, or Parkinson's Disease, for example.
Utilize Palliative In-Home Care from Visiting Angels of Vienna, VA, and Surrounding Areas
If you or your loved one needs palliative care services due to a chronic condition or illness, Visiting Angels is here to help. We provide a free consultation for you and your family to learn more about our senior care services and for us to learn more about your loved one's situation. We customize our home care plans depending on the needs of your loved one to provide the best support for the entire family. Contact your local Visiting Angels of Vienna by calling (703) 291-1262 or clicking the buttons below.
Visiting Angels is here to provide the care you need. Contact us today to learn more and schedule your complimentary in-home consultation.


Serving Tysons, Vienna, Falls Church, Fairfax County, VA, and the Surrounding Area
Visiting Angels
VIENNA, VA
8221 Old Courthouse Rd #208
Vienna, VA 22182
Phone: 703-291-1262
Fax: 703-291-4974