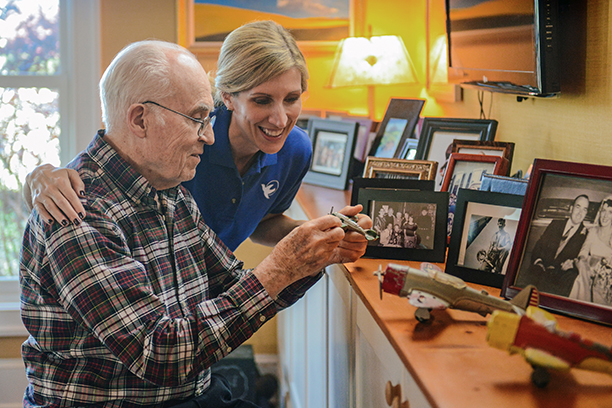 Answering Your Most Frequently Asked Questions About Our Elder Assistance Services in Tysons, VA and Nearby Towns
Visiting Angels Is Happy to Answer Questions About Our In-Home Elder Assistance from Families in Vienna, Tysons, and Surrounding Areas
At Visiting Angels of Vienna, we have helped many families of all shapes and sizes keep their aging loved one independent with our elder assistance services. We understand how difficult this time can be for a family, which is why we want to answer all your questions as thoroughly as possible. Please look at our most commonly asked questions about our services below.
Getting Started with Care
How Do I Know If My Loved One Needs Professional Care?
There are many signs that can let you know that your aging loved one may need additional assistance at home:
Disheveled appearance

Unexplained bruises or scrapes on their skin

They are wearing mismatched or dirty clothes

Their home is cluttered and needs cleaned

You notice they have lost a significant amount of weight

They are struggling to complete daily tasks
How Long Does It Take to Establish Care?
First you need to schedule a free, in-home assessment with our agency. Once the assessment is complete it can take 24-48 hours to start in-home elder assistance, sometimes less.
Are There a Minimum Number of Hours to Receive Care?
Yes. We require at least four hours of service for each shift.
What Are Your Office Hours?
We have a 24/7 service line for clients and caregivers. Our office hours for inquiring about care are from 9 am – 5 pm.
How Do We Get Started?
Getting started is as easy as calling our office at 703-686-8509 and setting up your free, in-home assessment.
About Visiting Angels of Vienna
Is Visiting Angels of Vienna Licensed?
Yes! All Visiting Angels offices are required to be licensed by the state.
Why Choose Visiting Angels of Vienna?
We are one of the leading providers of elder assistance services in the country. Our caregivers are all trained to the best practices of senior care to ensure that our clients are in good, capable hands. We strive to build long-lasting bonds with each person in our care and treat them as if they were our own family member.
What Services Do You Provide?
We offer a wide range of elder assistance services under our Senior Life Care Navigation program – you can pick and choose from the following:
Can You Provide Transportation?
Yes! Our caregivers can provide transportation to doctors' appointments, social events, therapies, or wherever your loved one wishes to go. We have a small mileage fee if our caregivers need to drive their own car, but we can also use your vehicle free of charge.
Our Caregivers
Are Your Caregivers Under Visiting Angels of Vienna's Employment?
Yes. All caregivers on our team are employed under Visiting Angels of Vienna.
How Are Caregivers Screened?
Caregivers must go through a rigorous interview process before being brought onto our team. This typically includes background checks, reference checks, multiple interviews, and personality tests.
Are Your Caregivers Licensed and Bonded?
Yes, all caregivers are licensed, bonded, insured, and trained to the best practices of elder assistance.
Is There Consistency Among Caregivers?
We do our best to ensure that the same caregiver(s) are coming on the schedule you prefer.
What If I Don't Like My Caregiver?
While we do our best to recommend caregivers that fit your lifestyle, needs, and personality sometimes the first caregiver you get is not the perfect fit. If this happens, we will be happy to switch them out with another aide. You are also welcome to interview any caregiver we recommend.
Costs
How Much Does Care Cost?
The cost of care can vary depending on the type of elder assistance needed, how far away you live, and the amount of hours you need. We do our best to keep care as affordable as possible and offer plenty of affordable home care options for you to utilize. You can hire our services at an hourly rate.
Does Insurance Cover Your Services?
Most insurances like Medicare and Medicaid do not cover senior care at home.
What Is Long-Term Care Insurance?
Long-Term care insurance is an insurance option that is typically accepted by home care agencies like Visiting Angels of Vienna. It is an insurance that helps with long-term care needs and covers options that Medicare and Medicaid cannot.
Logistics
What Hours Can Your Caregivers Work?
Our caregivers can work whatever hours you need them there! Depending on the number of hours you need and the times, we can create a schedule that fits your needs perfectly.
Can You Work with Home Health Agencies?
Yes, we can work with home health agencies.
Do You Provide Care in Assisted Living Facilities and Nursing Homes?
Yes, if the facility allows us to provide care there, we will be there!
What Areas Does Visiting Angels of Vienna Serve?
Visiting Angels of Vienna provides in-home elder assistance to seniors living in Vienna, Tysons, Tysons Corner, Fairfax, and the surrounding area.
Contact Us Today to Learn More
If you have any other questions for Visiting Angels of Vienna, our staff will be happy to answer them! Contact our office at 703-686-8509 today to learn more about our elder assistance services.
Serving Tysons, Vienna, Falls Church, Fairfax County, VA, and the Surrounding Area
Visiting Angels
VIENNA, VA
8221 Old Courthouse Rd #208
Vienna, VA 22182
Phone: 703-291-1262
Fax: 703-291-4974