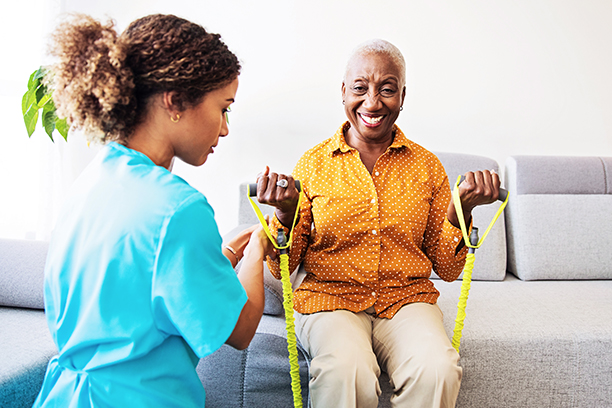 Alzheimer's Care by Visiting Angels of Vienna, Virginia and surrounding areas
Visiting Angels
provides exceptional Alzheimer's Care in Vienna, Virginia and surrounding areas
After being diagnosed with Alzheimer's disease, which slowly diminishes the brain's memory, thinking, and reasoning functions, your loved one and their family may be scared. Slowing the disease's impact on your loved one can be done with certain kinds of Alzheimer's care, such as treatment and therapy. Being proactive is critical if signs start to occur from your loved one's behavior to have Alzheimer's disease.
Signs of Alzheimer's disease
There are several signs of Alzheimer's disease that you should be aware of if you notice them in your loved one since they can become more persistent and frequent. These include forgetting names or when bills are due, distinguishing between colors or time, trouble completing sentences, or increased depression or anxiety. A doctor should evaluate your loved one if they show any of these (or other) symptoms. These symptoms are different from normal forgetfulness because they worsen over time and occur more frequently.
Types of Alzheimer's care
You and your loved one can do several things to make decisions regarding caring for someone with Alzheimer's proactively. The Alzheimer's Foundation of America and the Alzheimer's Association are a wealth of information to visit to learn about the disease. Discuss with your loved one end-of-life and long-term care issues surrounding important financial and legal matters.
Arrange for respite care and introduce assistants early in your loved one's Alzheimer's diagnosis since doing so, later on, maybe upsetting to them to introduce new people or change a routine you are involved in. Visiting Angels provide dementia care training to its staff.
Make time for your own physical and mental health by talking to people you trust since providing Alzheimer's care can be stressful and can quickly overwhelm you. Your local hospital or area agency on aging may offer a support group, for example.
For more information or to explore care options, call Visiting Angels of Vienna, Virginia, at 703-686-8509 to learn more.
Serving Tysons, Vienna, Falls Church, Fairfax County, VA, and the Surrounding Area
Visiting Angels
VIENNA, VA
8221 Old Courthouse Rd #208
Vienna, VA 22182
Phone: 703-291-1262
Fax: 703-291-4974