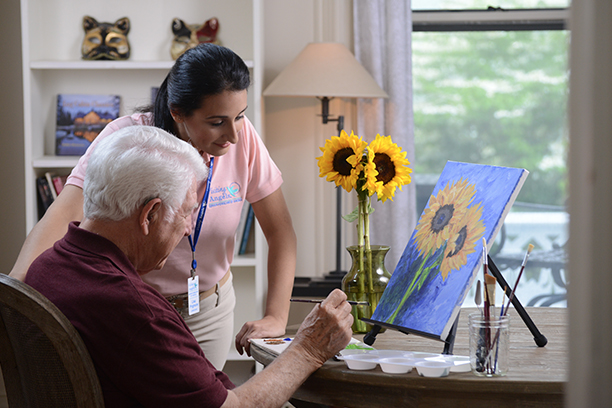 Eldercare Services in Hooksett, NH
Visiting Angels of Auburn Offers a Wide Range of Eldercare Services in Hooksett
Aging can certainly be tough, and sometimes seniors need to receive eldercare services. At Visiting Angels of Auburn, we are committed to helping your mom or dad maintain independence and dignity. Getting around gets harder as we age, but we have the tools to provide necessary assistance.

It is obvious why your mom or dad would want to stay living in Hooksett, NH. It has fantastic restaurants with all sorts of cuisines, such as the elegant Bavaria German Restaurant and the scrumptious Granite Tapas & Cocktail Lounge. Situated right between the bustling cities of Concord and Manchester, it is a small and cozy place. Politicians typically stop here on their travels during election season at Robie's Country Store and then saunter over to Tucker's for a great breakfast.

Hooksett also has plenty for your loved one's grandkids to do, including the popular Cowabunga's entertainment center. There are also plenty of parks, farmers' markets, and movie theaters. When you need a break, there are also breweries and bars to attend with your friends. Your elderly loved one probably has many fond memories of the area, so we aim to keep him or her at home as long as possible.

Our eldercare services are top of the line, and we pride ourselves on providing the necessary assistance and resources so that your mom or dad can stay at home. We offer countless services in addition to the typical bathing, grooming, and dressing care services. We can take your loved one to doctor's appointments or even his or her favorite restaurant. You don't need to worry about nutritional planning or meal preparation either, because we can do it for you. We are also skilled at social support, and our companionship can make your loved one feel better all around.

We are always available to you so that you can have peace of mind that your loved one is safe and taken care of. We offer a helping hand when you need it, whether that is once or every day. Our eldercare services range from physical care to social support, which are both critical to your senior loved one's well-being. Visiting Angels of Auburn can lessen your worries, so call today for a consultation.
Serving Candia, Manchester, Bedford, Derry, Londonderry, Hooksett, Auburn, Raymond, Salem, Concord, Bow, Goffstown, Dunbarton, Weare & Suncook, NH
Visiting Angels Auburn, New Hampshire
14 Hooksett Rd
Auburn, NH 03032
Phone: 603-838-3126