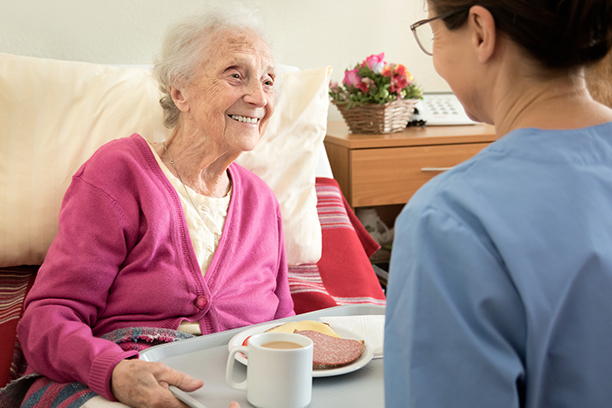 Meal Planning and Prep for Seniors in Santa Cruz and Monterey Counties
Home care solutions from Visiting Angels Central Coast can help seniors in Santa Cruz, Scotts Valley and Marina, CA remember to eat, prepare meals and stick to healthy diets
There is really no doubt about the fact that a healthy diet can make a huge difference in our lives, especially for seniors. Older adults who opt for healthier options and maintain a healthy weight have a much higher chance of living their best lives in their golden years.
However, as older adults face an increasing number of challenges with their health and general ability, they may begin eating less and less nutritious food. As their energy levels drop, they may opt increasingly for easier options like ordering in or heating up frozen meals packed with sodium, preservatives and other things that are harmful to our health.
The good news is that at Visiting Angels Central Coast, our senior care services can help prevent unhealthy eating habits for your loved one. At Visiting Angels Central Coast, we provide a wide range of home care solutions, including meal preparation and management, helping to keep seniors on the Central Coast of California safe whilst improving their quality of life.
How Our Meal Planning and Preparation Services Help Seniors Eat Right
The fact is that the older we get, the less we are able to take care of tasks that once came very easily to us. This is normal; however, it has to be accounted for and dealt with. If you think your loved one should be eating healthier but can no longer cook on their own, our meal planning and preparation services could help change their life.
Like we said, struggling with daily tasks is normal in our 60s, 70s and 80s. However, improper nutrition is very dangerous for seniors. This is because it can cause or worsen certain chronic conditions. At the same time, some struggle with having a very low appetite, and eating regularly may be a problem in and of itself.
With our home care solutions, your loved one will get the assistance they need from a dedicated caregiver. We can:
Help them go grocery shopping for healthy ingredients
Prepare food for them and help them stick to doctors' orders when it comes to their meals
Plan future meals in order to make it easier to shop for groceries and stick to a healthy diet
Provide feeding assistance if your loved one has trouble holding utensils
Our home care providers can help seniors deal with any weight-related issues, manage health issues like diabetes and eat a wholesome diet that can bring them plenty of benefits. Overall, this will help improve their energy levels and, positively impact their mood.
To find out more about meal preparation and other home care solutions from Visiting Angels Central Coast, please get in touch with our Scotts Valley or Marina, CA office today!


Serving Scotts Valley, Watsonville, Marina, Carmel, Santa Cruz, Aptos, Salinas, and throughout Santa Cruz and Monterey Counties in California
Visiting Angels
CENTRAL COAST IN CALIFORNIA
5274 Scotts Valley Dr #102
Scotts Valley, CA 95066
Phone: 831-430-0616
Fax: 831-430-0612
HCO #444700002