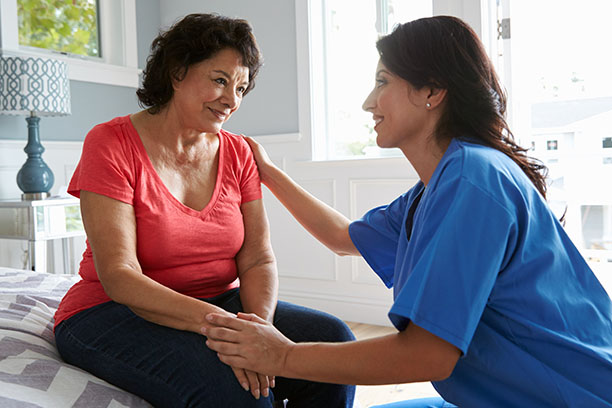 Dementia Care at Home for Seniors in Santa Cruz and Monterey Counties, CA
When your loved one has dementia, their happiness and security is at the hands of familiar surroundings, friends and family. As time goes by, they need more help just to be able to stay in their home. And as family, you may feel burned out by the increasing responsibility—and this is where Visiting Angels Central Coast can provide you with the much-needed respite you are looking for, as well as the much-needed dementia care that your loved one is longing for.
Visiting Angels Central Coast provides seniors in Scotts Valley, Watsonville, Marina, Carmel, Santa Cruz, Aptos, Salinas and surrounding areas who have been diagnosed with dementia with personalized, one-on-one in-home support. The goal behind this service is to provide these individuals the option to remain in the comfort of their home while maintaining the quality of life through the aid of our professionally trained caregivers.
How Does Dementia Care from Visiting Angels Central Coast Help Seniors?
As professionally trained caregivers, we know what dementia entails. It is not just about providing general senior care; the care has to be personalized to the challenges in conjunction with the specific type of dementia your loved one is experiencing. Further, the care needs to be tailored to the specific risks and symptoms your loved one is experiencing.
With our comprehensive dementia care services, we help elderly adults who have dementia with various activities like offer helpful reminders, provide compassionate companionship and help with private home care services. Our caregivers can help manage symptoms from many different forms of dementia, including Alzheimer's, Parkinson's, Lewy body dementia, Creutzfeldt-Jakob disease, Huntington's disease, vascular dementia, Wernicke-Korsakoff Syndrome, mixed dementia and more.
Here are more ways we help your loved one:
Transportation to therapies and appointments
Transferring assistance
Wandering prevention
And so many more
Getting Started with Home Care Solutions from Visiting Angels Central Coast
At Visiting Angels Central Coast, we offer free meetings, appointments and care assessments. We are also available to meet you anywhere that's convenient for you and your loved one. Commonly, it is best to meet at your loved one's home so that the care assessment created will be spot on, taking into consideration the layout of the house.
After the assessment, we can create a customized care plan specific for your loved one's needs and challenges. All these to ensure that they are well-cared for and put your mind at ease. Then your loved one and their needs are matched with the most suitable caregiver for them.
If you'd like to learn more about our dementia care services, feel free to contact our Scotts Valley or Marina. CA office today.
Serving Scotts Valley, Watsonville, Marina, Carmel, Santa Cruz, Aptos, Salinas, and throughout Santa Cruz and Monterey Counties in California
Visiting Angels
CENTRAL COAST IN CALIFORNIA
5274 Scotts Valley Dr #102
Scotts Valley, CA 95066
Phone: 831-430-0616
Fax: 831-430-0612
HCO #444700002