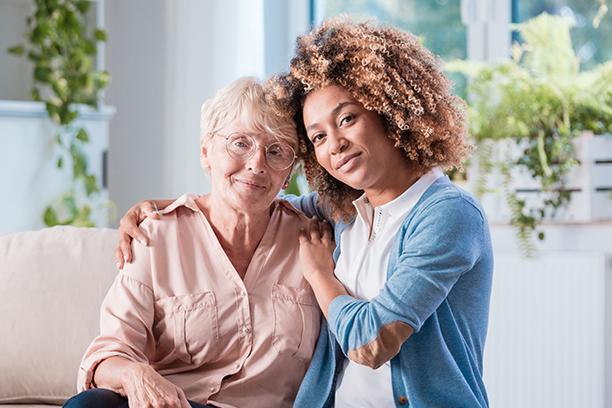 Hygiene, Bathing and Grooming Assistance for Seniors in Santa Cruz, CA
As health deteriorates and mobility declines, choosing to remain at home in senior years brings various challenges to older adults. Some seniors are perfectly fine on their own despite minor health concerns, only requiring a bit of assistance here and there. However, many older adults need higher levels of support to maintain their independence and continue aging at home.
If you have noticed that your loved one could use help with personal care and hygiene, personal home care services from Visiting Angels Central Coast include services such as hygiene maintenance, bathing or showering and grooming, all of which can boost their quality of life and self-confidence.
How Do I Know If My Loved One Needs Professional In-Home Care?
When determining if your loved one could benefit from professional in-home care, you need to be certain that they are having trouble with taking care of themselves. While it can be difficult to tell if your loved one needs help, there are some telltale signs when an older adult is starting not to take adequate care of their personal hygiene and appearance.
Here are some signs your loved one needs help:
Poor hygiene
Unkempt appearance
Strong body odors
Wearing the same clothes for days
At Visiting Angels Central Coast, we can tailor a personalized plan and schedule of care for your loved one and make sure they maintain good personal hygiene.
How Personal Hygiene Assistance from Visiting Angels Helps Seniors in Santa Cruz and Monterey Counties
At Visiting Angels Central Coast, our eldercare solutions include helping seniors in Scotts Valley, Watsonville, Marina, Carmel, Santa Cruz, Aptos, Salinas and throughout Santa Cruz and Monterey Counties maintain their personal hygiene. It's important to keep in mind that in-home care that focus on hygiene are not only a matter of appearance or self-esteem. If your loved one cannot take a shower on their own, they could end up with various health issues such as odors, rashes or skin breakdown. With help from our compassionate caregivers, your loved one can avoid developing health issues that commonly stem from poor personal hygiene and remain independent.
With our personal care services, your loved one will get all the assistance they need to look and feel great. Our expert caregivers can provide help with:
Bathing or showering
Dressing and undressing
Grooming
Oral care
Toileting and incontinence care
Putting on makeup
Shaving
Combing and styling hair
Our eldercare solutions will not only solve the problem of poor personal care but also bring back confidence into your loved one's life. It is important to note that many personal hygiene activities are better performed by trained professionals, not just because of discomfort or embarrassment but because experts know how to provide assistance without putting seniors at risk. This is especially true for activities like bathing.
Contact our Scotts Valley or Marina, CA, office today to learn more about our eldercare solutions and schedule your free at-home consultation. We are happy to be of service!


Serving Scotts Valley, Watsonville, Marina, Carmel, Santa Cruz, Aptos, Salinas, and throughout Santa Cruz and Monterey Counties in California
Visiting Angels
CENTRAL COAST IN CALIFORNIA
5274 Scotts Valley Dr #102
Scotts Valley, CA 95066
Phone: 831-430-0616
Fax: 831-430-0612
HCO #444700002