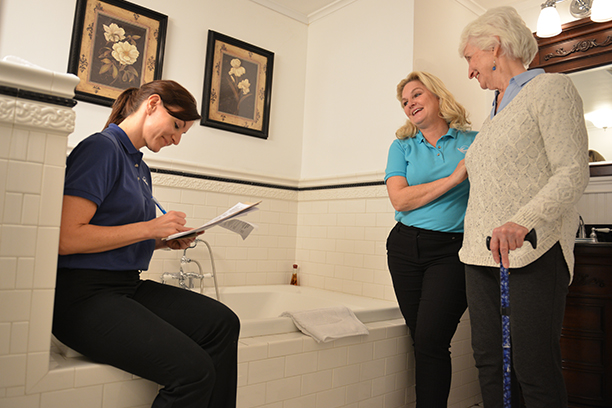 Incontinence Care for Seniors in Santa Cruz and Monterey Counties, CA
Incontinence is the involuntary loss of urine (urinary incontinence) or bowel movement (bowel incontinence) that is often found in older adults.
It can develop due to a health problem or medication side effects, in which cases the primary condition needs to be treated or medications changed. Older adults with incontinence typically need in-home care to get cleaned up after accidents and keep track of daily incidents for their physician.
While it is understandable that seniors are not very eager to speak of this problem, it is important to take steps to reduce the number of episodes or stop incontinence altogether.
At Visiting Angels Central Coast, our incontinence care for seniors can help your loved one with both types of incontinence and ensure they lead a dignified life and maintain their well-being and independence at home.
What Does Incontinence Care from Visiting Angels Central Coast Include?
When caring for seniors with incontinence, our primary goal at Visiting Angels Central Coast is to improve comfort and self-confidence and minimize embarrassing accidents. Our incontinence care consists of two parts: cleaning up after accidents and writing down when they happen so medical professionals can easily determine what is causing the issue.
When cleaning up after incontinence occurrences, our caregivers help seniors with getting to the bathroom, bathing, and dressing. They also clean any soiled clothes or sheets and furniture. When assisting after an incident, our caregivers make sure to work quickly and compassionately in order to reduce any embarrassment.
As for writing down when accidents happen, it is important to keep a diary of your loved one's toilet habits and stress when incontinence happens so that doctors can determine its causes and prescribe adequate treatment.
Our in-home care for seniors is not just personalized, it is flexible. We provide part-time, full-time, and 24-hour care, ensuring your loved one gets the help and support they need whenever needed. You should also keep in mind that incontinence care is just one part of our caregiving puzzle. We can help your parent or relative with several other activities of daily living, from light housekeeping and medication reminders to meal planning and transportation to appointments. With us, your loved one can safely remain at home as they age and enjoy a higher quality of life.
Contact our office in Scotts Valley, CA, today to learn more about how we care for seniors with incontinence and schedule your free consultation to discuss your family's needs.


Serving Scotts Valley, Watsonville, Marina, Carmel, Santa Cruz, Aptos, Salinas, and throughout Santa Cruz and Monterey Counties in California
Visiting Angels
CENTRAL COAST IN CALIFORNIA
5274 Scotts Valley Dr #102
Scotts Valley, CA 95066
Phone: 831-430-0616
Fax: 831-430-0612
HCO #444700002