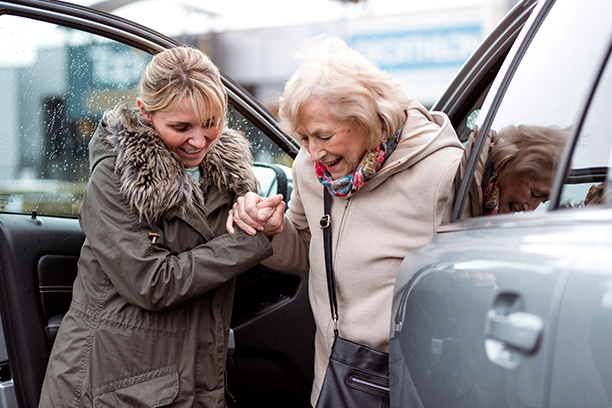 Caring for Someone with Alzheimer's and How Alzheimer's Home Care Can Help Seniors in Santa Cruz and Monterey Counties
Visiting Angels Central Coast provides quality Alzheimer's home care services to help seniors in Santa Cruz, Scotts Valley and Marina, CA manage Alzheimer's symptoms and stay safe in their own home
A recent survey by Alzheimer's Foundation of America revealed that there is an estimated 5.1 million Americans who suffer from Alzheimer's disease. Alzheimer's is a debilitating disease that leads to the decline of memory and cognitive skills. While there is a huge number of the elderly population suffering from Alzheimer's disease, it is important to take note that it is not part of the normal aging process.
Visiting Angels Central Coast can help your understand your options for Alzheimer's care services in Santa Cruz and Monterey Counties in California. Whether you choose professional in-home assistance or a memory care facility, it's important to make sure your loved one gets the care they need as soon as possible to maintain their safety and health.
It is important that you know about the warning signs of Alzheimer's disease. These include:
Memory loss
Difficulty in solving problems
Difficulty in completing routine tasks
Confusion about place and time
Trouble understanding spatial relationships
Problems in speaking and writing
Frequently misplacing things and retracing steps
Decreased judgment
Social withdrawal
Changes in mood
The Benefit of Early Diagnosis
If you notice that your loved one's manifest some of these signs, it is crucial that you have them evaluated by a physician. Although there is no cure for this disease, early diagnosis of Alzheimer's disease can help in its management. The sooner that your loved ones are diagnosed, the sooner they can also get treatment and therapy. Early diagnosis can also help the family determine the best course of action or plan to help their loved ones in managing their condition.
How Professional Alzheimer's Home Care Services Can Help Your Loved One
Receiving a diagnosis of Alzheimer's disease can be tough for the entire family. But since the diagnosis has already been made, the best thing that you can do is to accept and adapt ways to manage your loved one's condition. It is important to take note that managing Alzheimer's disease requires that you become proactive when making decisions for your loved ones. The most important thing that you can do is to educate yourself about it. By learning more about Alzheimer's disease, you will become better prepared to handle your loved ones. Another thing that you can do is to take care of the financial, legal as well as the long-term care planning of your loved ones early on during the diagnosis.
But more than anything else, arranging professional Alzheimer's home care services from Visiting Angels Central Coast is the best thing that you can do for the entire family. Remember that taking care of a loved one suffering from Alzheimer's disease is not an easy task and that the presence of caregivers can help you assist in the care of your loved ones and also provide the support that you need. If you are looking for qualified caregivers for your loved one, be sure to find one at Visiting Angels Central Coast as our caregivers are specialized in providing in-home Alzheimer's care services.
To learn more about our Alzheimer's home care options and how they can improve your loved one's quality of life, contact our Scotts Valley or Marina, CA office today.
Serving Scotts Valley, Watsonville, Marina, Carmel, Santa Cruz, Aptos, Salinas, and throughout Santa Cruz and Monterey Counties in California
Visiting Angels
CENTRAL COAST IN CALIFORNIA
5274 Scotts Valley Dr #102
Scotts Valley, CA 95066
Phone: 831-703-8974
Fax: 831-430-0612
HCO #444700002