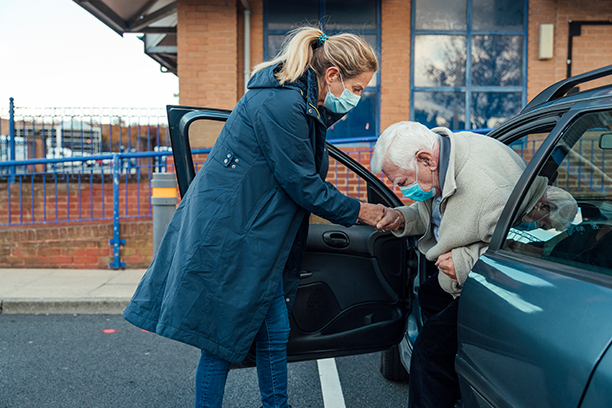 Pet Care for Seniors from Dedicated Home Care Specialists at Visiting Angels Central Coast
Many of us have experienced how wonderful having a pet truly is. Pets are a blessing. They help us stay grounded, improve our mood and can completely turn our day around with the positive energy they bring. If your loved one has a four-legged companion, a bird or even a turtle, they should not have to give them up just because of their age.
Yes, your senior parent may be facing an increasing set of challenges in their daily lives, but this does not mean they should have to give up things that make them happy. With in-home senior care from Visiting Angels Central Coast, your loved one can keep their pets and continue to enjoy their company and companionship for a long time thanks to dedicated care and support from our home care specialists.
How Our Home Care Specialists Help Seniors Who Own Pets
What makes Visiting Angels Central Coast so unique as a home care specialist is the fact that we believe in well-rounded care. We believe that for senior care to be truly useful to our clients, it has to go above and beyond just helping them take care of daily activities related to their illness or disability. Truly great elderly companion care has to help seniors meet their goals, improve their quality of life, and achieve happiness in their golden years. Pets make so many of us happy, they bring joy to our lives. Let's not take that away from your senior parent.
However, although pets are a blessing and bring light to so many senior lives, it is not wise to ignore the fact that many seniors simply are not able to take care of their pets on their own anymore. This is because many seniors face illnesses and chronic conditions that make bending over, picking things up, and walking very difficult. As you know, pets require us to do all of the above. Thankfully, one of our senior caregivers can come to your loved one's home to keep your loved one's pet safe, happy, fed and walked.
Why Choose Visiting Angels Central Coast?
Companion care from Visiting Angels Central Coast has made a difference in the lives of thousands upon thousands of seniors in Scotts Valley, Watsonville, Marina, Carmel, Santa Cruz, Aptos, Salinas and throughout Santa Cruz and Monterey Counties in California. As part of our companionship program, our home care specialists can provide your senior parent with company and conversation throughout the day. We also remind them to take their medication on time. At the same time, we also take part in activities like light housekeeping and meal preparation, which includes just about anything that needs to be done around the house that your loved one does not have the energy to do. Although Visiting Angels Central Coast is not a pet sitting service, we can take care of your loved one's furry children as they do play an important part in their overall health.
To find out more about Visiting Angels Central Coast and our team of home care specialists, please contact our Scotts Valley or Marina, CA office today!
Serving Scotts Valley, Watsonville, Marina, Carmel, Santa Cruz, Aptos, Salinas, and throughout Santa Cruz and Monterey Counties in California
Visiting Angels
CENTRAL COAST IN CALIFORNIA
5274 Scotts Valley Dr #102
Scotts Valley, CA 95066
Phone: 831-703-8974
Fax: 831-430-0612
HCO #444700002