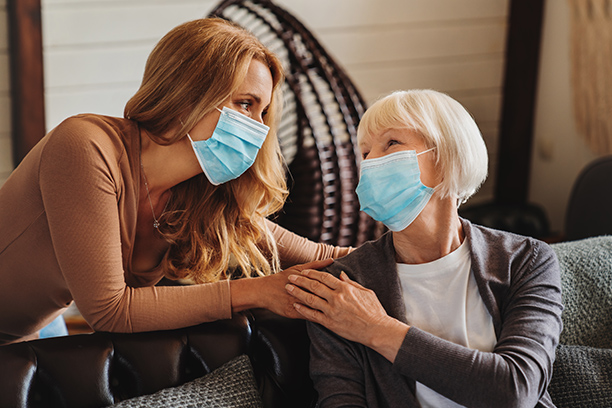 Why We Love Our Work
Home Care Stories from the Team at Visiting Angels Eldersburg
Why do we love what we do? Read the following home care stories and you're bound to know why!
---
Favorite Story About A Client
I once worked with a client who became pretty much house-bound because she was unable to drive. When we put in a caregiver, not only did she get out but her entire mood and spirit lifted! This is why we love what we do.
- Tiffany Reilly
---
One of our veterans. When we were working with a magazine (they were doing a story) and we showed up for the photo shoot, he answered the door wearing a fancy robe, an ascot and leather slippers! He was looking sharp!
- Cindy Wisniewski
---
Getting to work with clients that I knew previous to coming to Visiting Angels and bonding with them in a different way. Spending time with a client while she was still here and then going to visit her in her new home in Arizona.
- Charlotte Armentrout
---
I had a client who was in his 80's, had dementia and still works for the Washington Capitals. he's done off ice scoring for over 20 years, and they've still kept him as their employee, so he goes to every home game and has loved it forever!
- Amy Elizabeth Cullison
---
The time we pretended to be in the home to take care of the dog, but care was really for a younger dementia client.
- Samantha Copas
---
The client was a professional artist. She had dementia and she was able to still paint - just abstract
- Lee Ann Powell
---
My favorite experience with a caregiver and care recipient: We did RTC (Round the Clock) care for a gentleman for 18 months. He lived with his granddaughter and her family. In the time we were there his granddaughter had a baby. All our caregivers were super excited about not only helping Mr. P, but becoming Aunties to the baby. The family treated all our caregivers like family, too.
- Jessica Rinaldi
---
My favorite story about a client is the time I attended an in-home assessment. The new client was in hospice and her niece-in-law was helping to put care in place for her. The client was visibly distraught, sad and feeling very out of control. I noticed some black and white photos on her wall and asked her about them. She explained that she was a child actor in black and white western movies back in the 1930s. Her family lived in California at the time. She said that her father didn't like the lifestyle that she was being exposed to so he moved the family east. There were other details that I was talking to her about but that was the gist of it. For a moment we both forgot about how sad she was feeling. We can learn SO much from our clients.
- Amy McColley
---
There was a man we took care of in Severna Park and our team became so close with his wife during this tme that after he passed, she kept her caregiver for 2 days a week. A year later, we are still with her.
- Colleen Shields
Experience with a Caregiver that Stands Out in your Mind
My most relevant story in the VA Spirit is when a client who is wheelchair bound was awaiting her caregiver who called out. Renae, our caregiver supervisor, went to the home and did total care for this client. The client adored her for her kindness, compassion, and helpfulness - Renae stayed for the entire 4-hour shift!
- Sara Farley, RN
---
Not exactly, but I love when the family calls and gives us positive feedback about a caregiver.
- Erin Strevig
---
Our caregivers are true angels! The best part is seeing when a caregiver and client really match and the caregiver becomes like family.
- Tiffany Reilly
---
There are too many to count! A recent one - being on the phone for 45 minutes helping a caregiver navigate the streets of Baltimore to get to her client. She'd never driven into the city before, but she wasn't going to give up! She knew that this client depended on her! We worked together until she knocked on that door (:
-Cindy Wisniewski
---
Just being there to be friendly and helpful!
-Charlotte Armentrout
---
One of my favorite experiences with one of our caregivers was when one of them came to me for help because she was struggling with her client's case. The client was suffering from cancer and the caregiver was doing everything that she could think of to help keep the client comfortable. I went out and spent some time with them and we figured some things out. I lvoe the team atmosphere in our company. If someone is struggling, there is always someone who is willing to help out.
-Renae Newberry
---
I had a client who had dementia and mobility issues and had 24 hr care with us. She had an amazing connection with a caregiver and the client was always so calm when the caregiver was there. She unfortunately had to be moved to a facility, and the caregiver cancelled all of her plans that day to go be with the client and help her emotionally with the move. When she saw the caregiver there to help her, her face lit up.
-Amy Elizabeth Cullison
---
We worked with a lady who had dementia, and when we started care she had just come home from a rehab facility and wasn't walking. The "Angel" was able to get her walking and on outings to get milkshakes.
-Lee Ann Powell
---
Family loved their caregiver so much that they paid for the caregiver to transition to assisted living in Florida. The family considered the caregiver part of their family.
-Samantha Copas
---
One of our caregivers has just started with a new client and she was able to get the client out of bed for the first time in months! The client's husband was so happy he was almost in tears.
- Angie Braun
---
Many of our caregivers have significance in my mind. Most recently I interviewed a caregiver who had just lost his mom to complications of diabetes. He is a nurse in his home country and had hesitated to move to the US because he felt he was the only one who could properly care for her. The day he interviewed with me was the day of her funeral. he said he was not able to go home for the funeral, yet there he was at our office interviewing for a job to care for others. So many of our caregivers have stories of struggle, strength, and caring. They are amazing.
- Amy McColley
---
Once we were hired for a wedding to help the grandmother out all day so the mom could concentrate on being mother of the bride. There was a mix-up with the family and when the caregiver arrived to drive grandma to the church, a family member had already picked her up. The caregiver called the office, found out where the wedding was, drove there and stayed with grandma all day!
- Colleen Shields
Serving Eldersburg, Westminster, Baltimore, Columbia, Ellicott City, Randallstown and Surrounding Areas in Carroll and Howard Counties in Maryland
Visiting Angels
ELDERSBURG, MARYLAND
6505 Ridenour Way E #1B
Eldersburg, MD 21784
Phone: 410-324-6347