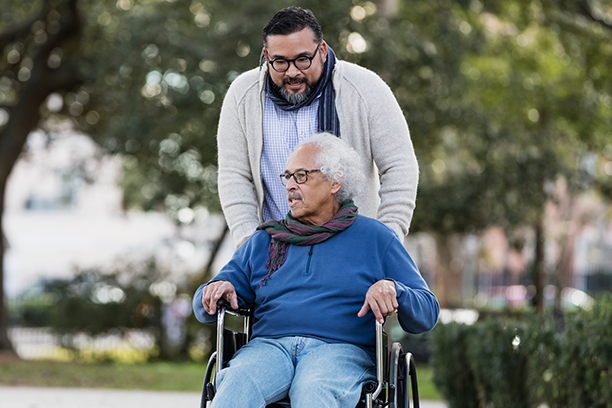 Long-Distance Home Care Solutions for Seniors in Eldersburg, MD
With so many in-home senior care options available in Carroll and Howard Counties in Maryland, it can be difficult to choose the best one for your aging parent or relative, especially if you live outside of Eldersburg, Westminster, Baltimore, Columbia, Ellicott City, Randallstown and nearby communities.
Long-distance caregiving can be challenging to handle, but with Visiting Angels Eldersburg, you can rest assured that you will have all the help and guidance you could possibly need to overcome any obstacle and opt for a perfect care plan for your loved one.
Our local office in Eldersburg, MD can help you coordinate every aspect of long-distance caregiving. Our home care solutions will enable your loved one to get the assistance they need to age at home while at the same giving you peace of mind.
Getting Started with Long-Distance Home Care Solutions from Visiting Angels Eldersburg
In the last few decades, more and more Americans have found great professional or educational opportunities outside their hometowns or states. On the other hand, some seniors have chosen to stay in their home cities while others have opted to spend their golden years in the sunnier parts of the country. With so many people moving to different states for various reasons, it is not uncommon for parents and their adult children to live hundreds of miles apart.
Living far away from an elderly relative can be difficult, especially if they're starting to develop age-related issues that impacts their ability to live on their own. You want to make sure they're doing well, but you can't always be there to check in on them. In situations like these, the right home care solutions can help seniors get the support they need to age in place while giving families peace of mind.
At Visiting Angels Eldersburg, we can help overcome these distances and allow you to take an active role in your loved one's care through long-distance caregiving.
If your family is in this situation, here's how Visiting Angels Eldersburg can assist:
To get started with our home care solutions, simply contact our Eldersburg office by calling 410-549-8002 or filling out our contact form.
Once in touch with our office, one of our care coordinators will provide you with all the information about our services and answer any questions you may have either by phone or email.
We will arrange for a care consultation for your loved one. We will visit their home for a one-on-one care assessment and speak with you over the phone.
After developing a personalized care plan for your loved one, we will match them with an experienced caregiver, whose skills match your parent or relative's needs.
When we begin providing our services, we will keep you regularly updated about your loved one's physical, mental and emotional well-being either by phone or email.
We will regularly visit and check your loved one to make sure they are perfectly satisfied with our level of care.
With home care solutions from Visiting Angels Eldersburg, families with senior loved ones in Carroll and Howard Counties can rest assured they're receiving the care they need from a professional, reliable caregiver.
If you require long-distance home care solutions for your loved one, please call our Eldersburg, MD office today to learn more about us and how we can help your family!
Serving Eldersburg, Westminster, Baltimore, Columbia, Ellicott City, Randallstown and Surrounding Areas in Carroll and Howard Counties in Maryland
Visiting Angels
ELDERSBURG, MD
6505 Ridenour Way E #1B
Eldersburg, MD 21784
Phone: 410-549-8002
"A Visiting Angel has been assisting my wife and I for nearly four years and we could not be more pleased with her. Not only is she competent, punctual and conscientious in her work, she has become a friend, sharing family photos, wedding pictures and Facebook posts. We are equally appreciative of the Visiting Angels support staff. In a world where it often seems like customer service is nonexistent, the Angels care coordinators are consistently responsive, cheerful and helpful."
– Richard F. (More reviews here)
Rating: 5/5 ⭐⭐⭐⭐⭐