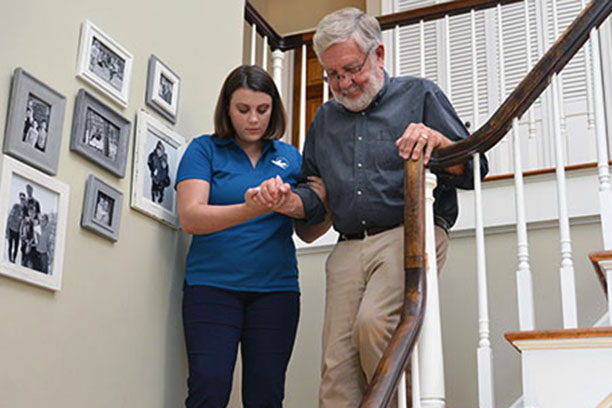 Preventing Falls for Seniors in Eldersburg, MD and Surrounding Areas
As we get older, our risk of succumbing to falls and injuries increases. There are many repercussions to falling, and seniors who sustain fall-related injuries often end up losing their independence because their mobility becomes limited. This causes intense emotional stress on the elderly, affecting their quality of life. As a result, many older adults opt to stay in the house and decline social activities with friends and family because of the fear of falling.
In-home senior care services from Visiting Angels Eldersburg include a fall prevention program so seniors in Eldersburg, Westminster, Baltimore, Columbia, Ellicott City, Randallstown, and throughout Carroll and Howard Counties in Maryland can live the life they want without worrying about fall-related injuries.
How Do Falls Impact Seniors in Carroll and Howard Counties?
Falls and other related injuries occur in one out of three adults. Moreover, 20 percent of people who experienced fall sustained injuries such as concussion, broken hip bones, and fracture that required a longer hospital stay and treatment. There were about 800,000 older adults in the country that needed hospitalization due to falls. A large number of these individuals were also required to stay in long-term care facilities after their hospitalization while some never went back home due to the severity of their injuries.
"I'm glad Dameteria is coming next week. This morning I found that my mom had fallen this morning and was unable to get up on her own. Dameteria arrived shortly after me and jumped right in to help. I was really glad she was there to help. More importantly Mom likes her. Great job, Angels!!!!"
- Rita K.
What Are Common Risk Factors for Falls Among Seniors?
There are many risk factors for fall-related injuries for adults over the age of 65. Caring for a senior loved one requires you to identify the risk factors so that you can come up with a fall prevention plan.
One of the most important risk factors is age-related mobility issues and chronic illnesses. Many seniors suffer from arthritis and poor eyesight thus increasing their likelihood of falling.
In addition, their in-home environment also plays an important role in increasing the likelihood of falls among older adults. Homes that do not have grab bars installed, particularly in the bedroom and bathroom do not provide the support that older adults need when moving around.
Installing proper structures as well as providing assistance to your elderly loved one can make a huge difference in the quality of life that they are living.
How Our Senior Care Services Help Older Adults in the Eldersburg Area Stay Safe
While prevention of falls is a challenge that families, service providers, and caregivers are facing, it can still be prevented with proper education. With senior care services from Visiting Angels Eldersburg, we can educate you and your family on how to prevent falls so that proper interventions can be implemented to protect the welfare of older adults.
Our fall prevention program provides education and in-home senior care services to help our clients avoid risk factors associated with fall-related complications.
Our caregivers can help your loved one with:
Safely getting from room to room and using the stairs
Ensuring your loved one takes their medication and watching out for any side effects that can impact your loved one's balance and cognition
Contact Visiting Angels Eldersburg at 410-549-8002 to learn more about our fall prevention program and other senior care services. You can also schedule a free in-home assessment.
Serving Eldersburg, Westminster, Baltimore, Columbia, Ellicott City, Randallstown and Surrounding Areas in Carroll and Howard Counties in Maryland
Visiting Angels
ELDERSBURG, MD
6505 Ridenour Way E #1B
Eldersburg, MD 21784
Phone: 410-549-8002