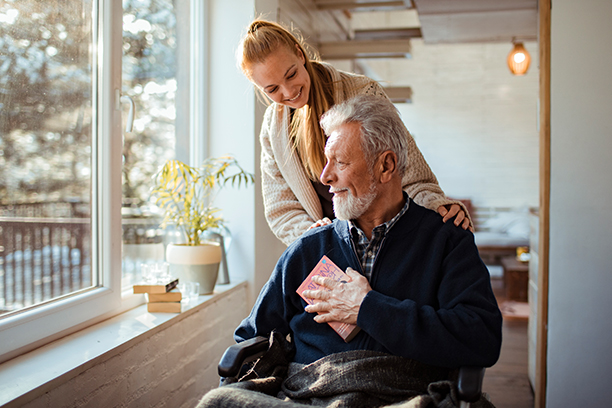 How Visiting Angels Helps Seniors in Eldersburg, MD and Surrounding Areas
Your senior loved one may need professional care at home very suddenly after a specific incident or because of a consistent decline in health as time goes on. Regardless of the reason as to why you may now need a professional caregiver from Visiting Angels Eldersburg, it can be shocking to accept. When you think of your parents, you think of strength and reliability. Every time you needed something, they were there for you. They now need you just as much as you need them, and that can be hard to understand and accept.
When a close friend or loved one requires in-home care, the brain can run wild with concerns and questions. It's okay if you feel overwhelmed during this new stage of life as you search for the right caregiver and figure out how they will be able to help. Visiting Angels Eldersburg wants to help you and your family through this overwhelming time. We want to help you and your loved one find peace of mind in this new terrain like we've done for thousands of families around the country.
How Do Caregivers from Visiting Angels Eldersburg Help Seniors in Carroll and Howard Counties?
Aging in place is possible with Visiting Angels Eldersburg because we provide personalized, one-on-one home care services to elderly and disabled adults throughout Eldersburg, Westminster, Baltimore, Columbia, Ellicott City, Randallstown and surrounding communities in Howard and Carroll Counties in Maryland. What is aging in place? This phrase describes many seniors' desire to live in the comfort of their own home's as they age; the desire to stay at home until it becomes completely necessary to move to a care facility.
At Visiting Angels Eldersburg, every daily activity is taken care of by compassionate caregivers who make aging in place easy. With senior care services from our one-on-one support team, seniors get to keep their independence and stay in their homes as opposed to transferring to a facility.
In what ways can our caregivers assist your senior in need? There are a wide variety of senior care options. At Visiting Angels Eldersburg, we'll work with you to develop a plan that addresses your senior loved one's specific needs. Our caregivers will develop a custom schedule that revolves around the need of your loved one, and they will change it based on the changes in need of each patient.
We provide a diverse variety of home care options for elderly and disabled adults including:
Our caregivers come to your home whenever it is convenient for you. Whether you need them overnight, 24 hours a day, weekends, holidays, or one hour a day, they will be there for you no matter what.
It may be difficult at first to adjust to having a caregiver in the home, but we try to make this transition run as smoothly as possible. We offer free in-home assessments that include both safety tests and fall tests to ensure that your loved one stays free from injury. When you choose Visiting Angels Eldersburg as your partner in home care, your loved one will feel comfortable at home with a trusted senior care companion and a strong sense of peace.
Contact our Eldersburg, MD office today at 410-324-6347 to get your free in-home assessment and find the right caregiver for your loved one.
Serving Eldersburg, Westminster, Baltimore, Columbia, Ellicott City, Randallstown and Surrounding Areas in Carroll and Howard Counties in Maryland
Visiting Angels
ELDERSBURG, MARYLAND
6505 Ridenour Way E #1B
Eldersburg, MD 21784
Phone: 410-324-6347