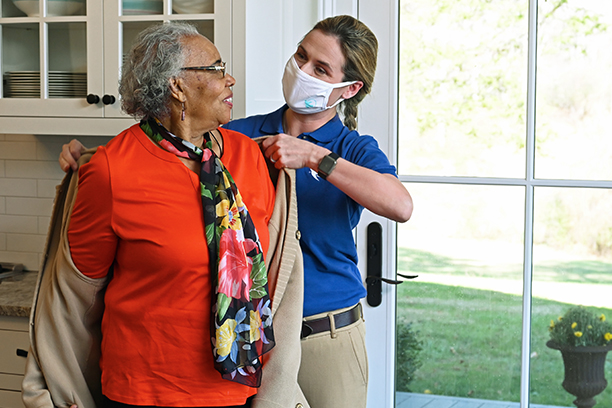 How Can I Get Started with Senior Home Care Services from Visiting Angels Eldersburg?
Deciding to hire a professional caregiver for your senior loved one can be stressful, especially when you don't know what's involved in creating a care plan. At Visiting Angels Eldersburg, we make the process of arranging senior home care services easy for families in Eldersburg, Westminster, Baltimore, Columbia, Ellicott City, Randallstown and throughout Howard and Carroll Counties. Our care coordinators will closely work with you and your loved one to ensure they get the support and assistance they need.
"The whole experience from the first phone call to meeting with Samantha to getting it staffed with the same caregiver for all visits has been so amazing!"
- Melody C.
How We Arrange Senior Home Care Services for Families in Carroll and Howard Counties
In order for us to provide the type of care that Visiting Angels Eldersburg is known for, we start off with what is known as an "in-home assessment." These assessments are done in the home of the elderly person to whom we may be providing care in the future, while in the company of their loved ones or family members who will be overseeing or directing care.
Our care coordinator will come out to your loved one's home on a day and time that works for you, and during the meeting we will go over what type of care is needed, what schedule works best for your loved one, any specific requests that your loved one or other family members may have, and any other general concerns that you may have prior to starting care.
These assessments are also an excellent opportunity to ask questions of the experts at Visiting Angels Eldersburg, and they are also a great opportunity for us to get to know one another. If by chance you are feeling a tad overwhelmed with the options presented to you regarding senior home care services, we can make informed recommendations and help point you in the direction that we believe would best fit your unique situation and your loved one's wishes.
Here's what we typically discuss when arranging senior home care services in Eldersburg and surrounding areas:
What does your senior loved one have trouble with? What type of help are you expecting? We'll discuss whether they require bathing assistance, grooming, dressing, meals and diet, incontinence and any mobility issues your loved one is having.
Performing a current review of your loved one's daily schedule, as well as their needs regarding sleep, eating and current medications.
Emotional and social needs such as social interaction, favorite activities, conversation, social appointments and companionship.
General types of assistance such as housekeeping and meal preparation. We will also discuss grocery shopping and what errands need to be performed
Schedules, how the caregiver will access your loved one's home, documentation of care provided, and details regarding how to work with scheduling changes, the office or the caregivers involved
If at the end of our meeting you have decided to employ our services, we will establish a schedule, finalize the care plan, schedule a nurse visit and coordinate a meeting with the caregiver.
Get started with senior home care services by contacting our Eldersburg, MD office today at 410-324-6347. We're here to help!
Serving Eldersburg, Westminster, Baltimore, Columbia, Ellicott City, Randallstown and Surrounding Areas in Carroll and Howard Counties in Maryland
Visiting Angels
ELDERSBURG, MARYLAND
6505 Ridenour Way E #1B
Eldersburg, MD 21784
Phone: 410-324-6347