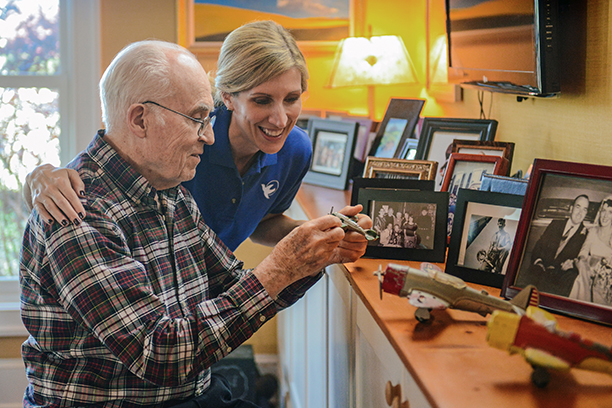 Meal Planning and Preparation for Seniors in Eldersburg, MD and Surrounding Areas
While we all know just how important it is to eat a healthy diet, especially in senior years, many older adults are malnourished, eat too much or eat food that is not good for them. With the help of professional personal caregivers from Visiting Angels Eldersburg, you do not have to worry about this as we can provide quality meal planning and preparation services.
We've been helping seniors in Eldersburg, Westminster, Baltimore, Columbia, Ellicott City, Randallstown and throughout Carroll and Howard Counties prepare healthy and delicious meals and snacks since 2002. Our personal caregivers can make sure that your loved one eats healthy, warm and well-balanced meals regularly.
The Importance of Healthy Eating for Older Adults in Eldersburg and Nearby Areas
When we reach a certain age, we are not as strong as we used to be when we were younger. While this is completely normal, it is still of crucial significance that your loved one eats a healthy diet in their 60s, 70s, 80s and beyond.
Eating a healthy diet can help your senior loved one by:
Boosting their immunity
Helping them maintain a healthy weight
Giving them energy throughout the day
Lowering the likelihood of developing chronic long-term conditions
However, if your parent or relative struggles with maintaining their independence, sticking to a healthy diet and preparing their own meals may be more challenging. If they additionally live with a chronic or progressive condition, eating may be pretty difficult for them. If they are taking multiple medications, some of them may lower their appetite.
How Meal Preparation Services from Visiting Angels Eldersburg Can Help Your Loved One Eat Right
Professional in-home senior care from Visiting Angels Eldersburg can make healthy eating more manageable for your senior loved one. Our personal caregivers can plan your loved one's meals in accordance with their dietary regimen, medical conditions and preferences. Professional meal planning and preparation can help your parent lose or gain weight, manage health issues like diabetes and eat a wholesome diet that can bring them plenty of benefits. Proper nutrition can give your parent more energy, positively affect their mood and elevate their quality of life.
In addition to planning and preparing meals, our caregivers can go grocery shopping. Your loved one can accompany them to the store or wait for them at home. Either way, your parent will enjoy a wholesome diet of fresh, healthy ingredients.
If your loved one likes cooking and exploring new recipes, our personal caregivers can encourage them to participate in meal preparation as much as possible. Engaging in even simple, routine activities can boost their overall well-being. Plus, grocery shopping or preparing meals with a caregiver can deepen their bond and allow for a more enjoyable caregiving experience.
If you choose meal planning and preparation from Visiting Angels Eldersburg, we can work with your loved one's schedule so they can have help with preparing meals without needing to compromise their everyday routine. Our personal caregivers can help your loved one prepare breakfast, put together snacks throughout the day, or make a nice cup of tea before they go to sleep at night.
To learn more about our meal planning and preparation services, please call our Eldersburg, MD office today at 410-324-6347. We look forward to meeting you and discussing your loved one's needs in detail!
Serving Eldersburg, Westminster, Baltimore, Columbia, Ellicott City, Randallstown and Surrounding Areas in Carroll and Howard Counties in Maryland
Visiting Angels
ELDERSBURG, MD
6505 Ridenour Way E #1B
Eldersburg, MD 21784
Phone: 410-549-8002