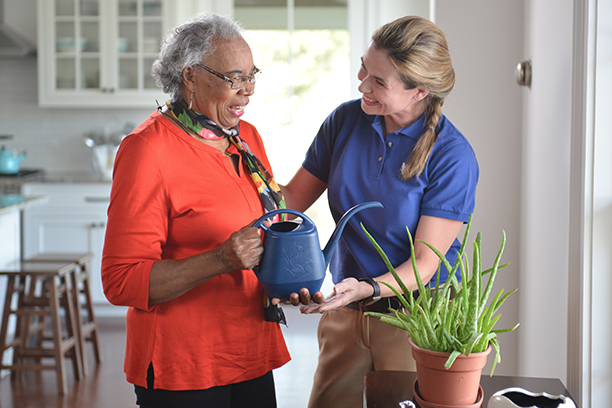 Incontinence Care for Seniors in and Around Eldersburg, MD
Incontinence is a common issue among seniors. While it can no doubt be embarrassing, incontinence is nothing to be ashamed of; it is a health problem that requires attention to be successfully managed. Fortunately, incontinence is not a serious health problem and there are ways to deal with it, but for it to stop or become worse, seniors need to speak about it with their doctors.
Incontinence often develops due to other chronic health conditions or medication side effects and can thus be solved once the primary condition is treated or new medications introduced. For seniors who wish to continue living independently at home, it is important that they manage their incontinence in order to stay healthy, happy and confident as they age in place.
Incontinence care from Visiting Angels Eldersburg can help your loved one with incontinence issues and ensure they lead a high quality of life regardless of this issue. Our personal care services have been helping seniors in Eldersburg, Westminster, Baltimore, Columbia, Ellicott City, Randallstown and throughout Carroll and Howard Counties age in place safely and comfortably for over 21 years.
How Our Personal Care Services Help Seniors in Eldersburg and Surrounding Areas
At Visiting Angels Eldersburg, we understand that incontinence may cause great discomfort to seniors. Not being able to control one's bladder or bowels can lead to frustration, anger and other negative emotions. Some seniors may decline social invitations and withdraw for fear of an accident occurring in public.
When you choose in-home personal care services from Visiting Angels Eldersburg, we will match your loved one with a compatible, experienced and compassionate caregiver who will be there to assist your loved one if they have an accident.
Our incontinence care services include:
Monitoring their condition and well-being in order to be able to provide medical professionals with accurate data regarding the frequency of accidents
This makes it much easier for doctors to determine what is causing incontinence and is thus easier to treat and cure it. Our caregivers will provide personal care services with the utmost discretion and compassion so that your parent would never feel uncomfortable or embarrassed.
What is also good to know is that your loved one's chosen caregiver will always work around your family's schedule. They can care for your parent a couple of hours a day or they can provide full-time care. 24-hour home care is also an option with Visiting Angels Eldersburg.
Incontinence issues can be difficult and embarrassing to talk about and deal with. Fortunately, you won't need to worry about your loved one's health and well-being when you choose incontinence care from Visiting Angels Eldersburg.
To learn more about our incontinence care and other personal care services, please contact our Eldersburg, MD office today at 410-549-8002. We are happy to be of help!
Serving Eldersburg, Westminster, Baltimore, Columbia, Ellicott City, Randallstown and Surrounding Areas in Carroll and Howard Counties in Maryland
Visiting Angels
ELDERSBURG, MD
6505 Ridenour Way E #1B
Eldersburg, MD 21784
Phone: 410-549-8002
"A Visiting Angel has been assisting my wife and I for nearly four years and we could not be more pleased with her. Not only is she competent, punctual and conscientious in her work, she has become a friend, sharing family photos, wedding pictures and Facebook posts. We are equally appreciative of the Visiting Angels support staff. In a world where it often seems like customer service is nonexistent, the Angels care coordinators are consistently responsive, cheerful and helpful."
– Richard F. (More reviews here)
Rating: 5/5 ⭐⭐⭐⭐⭐