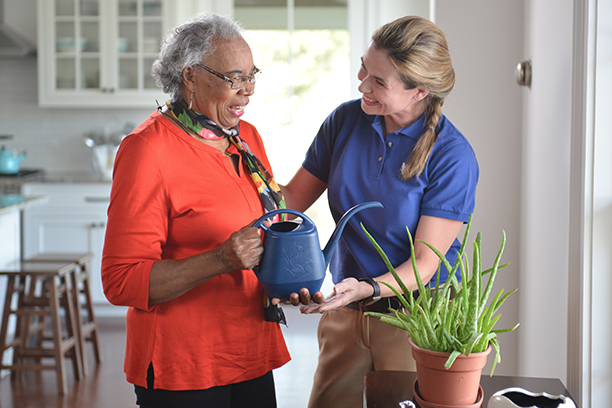 Elderly Home Care Can Help Care for People with Alzheimer's Disease in Greater Kansas City, MO
Visiting Angels' Elderly Home Care Helps Seniors with Alzheimer's Disease Live Comfortably in Kansas City, Lee's Summit, Liberty, and Surrounding Areas
According to the Alzheimer's Foundation of America, nearly 5 million Americans suffer from the disease. Alzheimer's is a fatal progressive cognitive degenerative disorder characterized by memory loss and a decline in reasoning skills. Seniors diagnosed with Alzheimer's disease will experience worsening symptoms over time and eventually require elderly home care support. If you have a loved one who has been diagnosed with Alzheimer's disease, you may be feeling devastated or overwhelmed. However, you do not have to go through this alone.
While there is no known cure for Alzheimer's disease, treatments and therapies can help slow the disease's progression, improving a person's quality of life. If you are concerned that your senior loved one may have Alzheimer's disease, take them to their physician as soon as possible for a diagnosis.
Here are 10 Warning Signs of Alzheimer's
Memory loss: significant short or long-term memory loss that disrupts daily living - like not remembering names, recent events, new information, or where things go.
Challenges with solving problems or planning: taking more time than usual to perform simple tasks like following a recipe or paying monthly bills.
Difficulty performing or completing familiar tasks, be it at home or work.
Confusion about place and time: individuals living with the disease have difficulty keeping track of the time, date, and seasons.
Losing the ability to go back and retrace steps and misplacing things: those living with Alzheimer's may not put things in their usual place, perhaps even accusing others of stealing because of it.
A decrease in decision-making skills or poor judgment calls: there may be problems paying attention to hygiene and grooming or issues with financial scams.
Withdrawal from work activities or social pursuits.
Trouble understanding spatial relationships and visual images: look for difficulty in determining color or contrast, reading, or judging distances.
New problems with words: be it writing or speaking, seniors may experience issues with finding the correct words to use when speaking or writing, as well as difficulties following conversations and directions.
Personality or mood changes: this may include withdrawal and disinterest in social activities, depression or extreme mood swings, as well as suspicion or anxiety.
Specialized Care Services
If your loved one displays any of the previous symptoms, time is of the essence for a diagnosis. These are warning signs of Alzheimer's, not a normal progression of the aging process, and needs to be evaluated immediately by a physician. While some older adults may display one or two of these signs at any time, it is imperative to understand that, with Alzheimer's, all these symptoms will both gradually increase and eventually become more persistent.
You Are Not Alone!
Visiting Angels of Kansas City is an elderly home care agency specializing in at-home senior care services for both Alzheimer's and dementia care in Kansas City, Lee's Summit, Liberty, Belton, and the surrounding area. If you or a member of your family has received a diagnosis for dementia or Alzheimer's, we are here to help you navigate this troubling time. Contact our agency by clicking one of the buttons below for more information about our specialized elderly home care services and programs to explore the many options you have with our teams.
Serving Kansas City, MO and the Surrounding Area
Visiting Angels
KANSAS CITY, MO
7819 Wornall Road #7
Kansas City, MO 64114
Phone: 816-361-9800